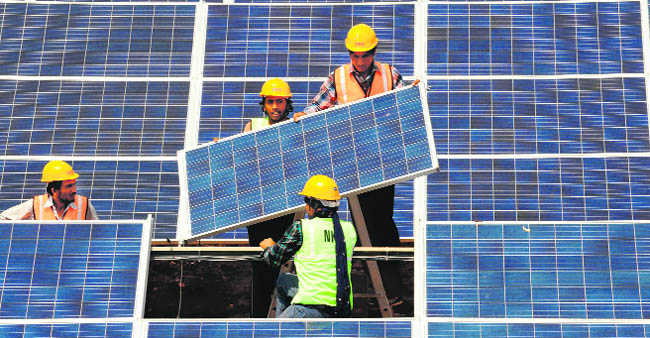 Ruchika M Khanna
Tribune News Service
Chandigarh, July 28
The Union Ministry of Power's latest order on enhancing the growth trajectory of renewable purchase obligations (RPO) for solar and non-solar power has not gone down well with the Punjab State Power Corporation Limited (PSPCL). The latter has decided to oppose the hiked limit for buying solar power.
Top officials in the state power utility told The Tribune that the enhanced trajectory of solar power was financially unviable for the corporation. Though the rate at which the corporation is to buy the solar power from the producers is expected to be reduced considerably from last year, the PSPCL says that increased buying of solar power will eat into their profits. Solar power is costlier than the thermal one by over Rs 3 per unit.
Punjab has allotted 1,050-MW solar power projects. So far, 491 MW is being generated. The generation of the remaining power is expected to begin by December, once the projects get commissioned.
PSPCL officials said they were already objecting to the growth trajectory of 4 per cent (submitted for approval before the enhanced limit was set), recommended to the Punjab State Electricity Regulatory Commission (PSERC) by the Punjab Energy Development Authority (PEDA). Top officials stated that this year, the Central Electricity Regulatory Commission had fixed the rate at which solar power is to be bought at Rs 5.68 per unit. The state power regulator is expected to keep the same rate, and reverse bids on this rate will be invited. Sources in PEDA expect that the reverse bids could get them a rate of Rs 4.5-5 per unit at which the PSPCL will buy the power they generate.
Last year, the PSPCL was buying power at Rs 5.09-5.98 per unit, after having allotted tenders for solar generation through reverse bidding. Sources in the corporation said even if the rates at which solar power was generated and sold to them was fixed at Rs 4.5 per unit, it was still Rs 2.4/unit expensive than generating its own thermal power or buying it.