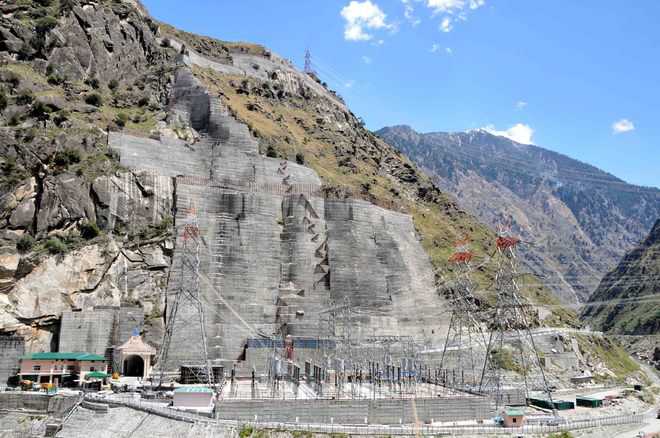 Pratibha Chauhan
Tribune News Service
Shimla, November 1
Despite offering several concessions in the Hydropower Policy to woo investors, the state has again got a poor response to 37 projects, advertised for the fourth time, as only six power companies have applied for 11 projects.
With October 31 being the last date for sending in bids for these projects, technical bids were opened today. Sources in the Power Directorate revealed that six companies had applied for 11 projects. There were still no takers for 24 projects, for which not even a single bid had been received.
In case of two hydro projects, Tandi and Rashil, a decision was taken to restore it to APG Shipyards as it had agreed to pay the upfront premium, said sources. The list of the projects to be awarded had now been reduced to 35, having a total capacity of about 1137 mw. The projects would be allotted on a "build, own, operate and transfer (BOOT) basis.
Sources said 29 bid documents had been sold, raising hopes of the Energy Directorate that independent power producers (IPPs) would evince interest and take up these projects. But after the opening of the technical bids, it had been confirmed that the response was far from satisfactory.
The deadline for these 37 projects this time was extended five times to allow more investors to send in their bids. The independent power producers had cited various reasons, including poor road connectivity, absence of a power corridor for evacuation of power and inaccessible and remote location of the project sites, as the reasons for their disinterest.
Out of the 37 projects, 11 power projects are located in the Chenab basin, seven in the Ravi basin in Chamba district and 11 in the tribal Kinnaur district, where the locals are vehemently opposed to more hydropower projects. Other projects advertised for allotment are in the Yamuna and Beas basins.
The Cabinet have given several relaxations to woo firms for harnessing the hydropower potential but these seem to have not impressed the investors. The government had reduced the lease money of the land from 10 per cent of the circle rate to a mere 1 per cent and the upfront premium too had been brought down from Rs 35 lakh per mw to a mere Rs 1 lakh. In another significant move that would have made it less cumbersome for the IPP to obtain clearances, it was the Deputy Commissioner who would obtain all NOCs from the Public Works Department, Revenue, Irrigation and Public Health and Forest departments.