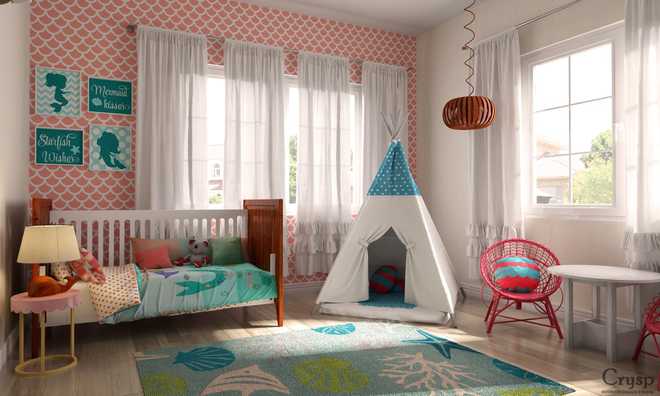 Shashi Sunny
As more and more parents seek professional help to do up their kids' rooms, interior designers catering to this niche segment are much in demand. Pooja Kaul, an architect who helms FlyFrog Kids says, "In nuclear families, we now have space for a separate kids' room and parents are also aware of how well-designed spaces influence a child's behaviour. Also increased travel has exposed people to international trends which they try to emulate locally. This has resulted in a huge spurt in the demand for specialised décor for children which is now rapidly becoming a vibrant sector." Not surprisingly, she informs, "The home décor market in India is pegged at $20 billion and the kids' segment is the fastest growing section in that""
Pooja recalls highly customised requests like a 'princess room' for a girl of 5 who insisted on purple instead of a usual choice of pink and says such special requests are becoming the norm. Another memory, she says, is of a pre-school where every classroom had a theme and the wall hooks for each child were according to that theme. "So we had rabbits, elephants, birds, lions etc as wall hooks".
Another professional, Radhika Krishnatray of Never Grow Up who takes up interior projects for nurseries, children rooms and playhouses says creating a space that is loved by a child is a challenging task. "When planning a space, to entice your child to use the room for more than just sleep, I consider three zones — a quiet time space; a work or play space; and a sleeping space". This rule of three can be applied to nurseries all the way up to teen spaces in order to maximise functionality. She adds, "Functional and aesthetically appealing rooms are the way to go.
One option is to create a feature out of your children's collection so what may have once been considered clutter is now a beautiful display. And I like to recommend plain, soft and pastel bed linen. It can be built upon with colourful and patterned throws, cushions and accessories. This way you can change the linen easily without changing the complete look of your room. A word of caution, there is a very thin line between accessorizing and over-doing and stay on course to ensure that the room created defines the child." Radhika's favourite project is a room she did for two siblings — a boy and a girl, a life-size outhouse/playhouse with a tropical theme. With a smile she says, "The project was as interesting as it was challenging as I had to keep both the kids in mind, making sure it appeals to the sensibilities of a girl as well as a boy."
Navita Mahajan of Crysp Interior Design Studio says, "The most important aspect of designing a kid's room is that the space should reflect their personality and not of their parents. I like to follow a 3S thumb rule, Safety, Size and Style. The 3S thumb rule helps execute a well designed room which the kid's cherish."
All the designers agree that except for infants, the child's input is essential to the success of the project. Navita explains, "The child's involvement in the project helps bring in a new dimension to the whole process. Finding out what activities concern them, what are their fantasies, their favorite colours, what is unique in their personality and other details like these, help you create a decorative theme that they feel they own and this also helps inculcate a sense of responsibility towards their space and belongings".
As a child grows his space requirements change faster than one can think. From safe crawling mats to planned study units, all their requirements need to be addressed suitably. Also, with a mind-boggling variety of furniture and accessories available in the market, parents look for expert assistance to achieve cohesive yet well styled rooms for their kids. "Style themes like the vintage look, Nordic accents etc are overlaid to elevate the interiors. Usually toddlers' rooms are driven by their play interests and teen rooms are mainly based on their hobbies," adds Navita.
Precautions, say the designers, include non-toxic wall and wood finishes, smooth edges of the furniture, appropriate bed and seating heights. The quality of ornamentation also poses a challenge. Navita, who has catered to such unusual requests such as a castle shaped bunk bed cum play pen, says, " While Disney and superhero themes definitely allow your child to be a kid, they lack an element of longevity and are best avoided as children usually tire of these once they grow up."
Vaastu tip from Jayaa Nairr: The best location for your kid's room is west as this brings out their creativity.
Top News
Chennai airport operations suspended from 9.40 am to 11 pm
Group of militants on their way to Myanmar ambushed by anoth...
Court of Inquiry ordered to ascertain the cause of accident
Punjab MP was suspended on August 11
The report was mentioned in business list at number 5 in the...