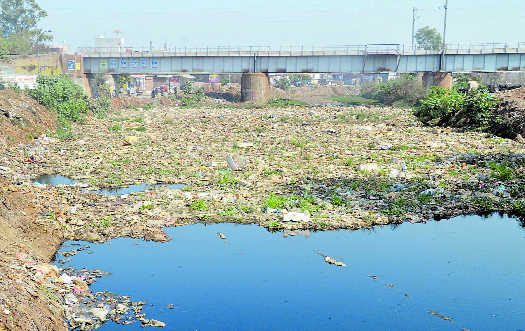 Ambika Sharma
Tribune News Service
Solan, March 15
With six incidents of spillage of toxic-ridden waste from the Common Effluent Treatment Plant (CETP) finding way into rivulets of the Baddi industrial area coming to the fore in the last about four months, officials of the State Pollution Control Board have suggested primary treatment of effluents by the industries.
This measure will ensure that even if the conduit pipes spill the effluents owing to damage in the pipes, the effluents will cause lesser damage to water bodies. It was observed in the past four months that reckless digging by various contractors broke the conduits carrying effluents to the CETP leading to spillage of the toxic-ridden waste. Though the plant staff did suck in the effluents but some of it did find its way into the rivers, adding to water pollution.
Brijbhushan, Executive Engineer, State Pollution Control Board, while explaining the rationale behind this step said water samples which were drawn from water bodies like the Sarsa and Balad rivers after spillage of toxic waste revealed that they contributed significantly to the pollution.
The biological oxygen demand, which is a key parameter of measuring water pollution, registered a nearly 6 to 7 fold increase in its value and this does not augur well for the aquatic flora and fauna. He said keeping in view the occurrence of six such incidents it has been recommended that all units should undertake primary treatment of effluents within their unit premises and only treated waste should be sent to the CETP.
The officials were now awaiting directions from the board which would pave way for the industries to follow these directions and help check water pollution.
A request has also been made by the plant management to various departments like the BBN Development Authority, PWD, Municipal Committee, etc, to warn their contractors about the presence of conduit pipelines while undertaking reckless digging operations in any area.
Since this is the first such plant set up in the state efforts were underway to ensure smooth operations, confided Ashok Sharma, Director, UPIL, which was operating the plant. He said some industries were sending treated waste to the plant on their own and they were monitoring the quantum of effluents being sent as per the agreements.
The Rs 60-crore Centrally funded plant has been constructed under the public private partnership mode and the state government has provided 96.17 bighas to it at Kenduwala village.
Top News
Over 3,000 tourists from various parts of country reported t...
Third top leader of AAP nabbed by a central agency in a year...
Bench led by Justice Sanjay Kishan Kaul directs Centre to fu...
Indian javelin star threw 88.88m, a season's best, to clinch...
Agency alleged Kapoor received money for performing at the w...