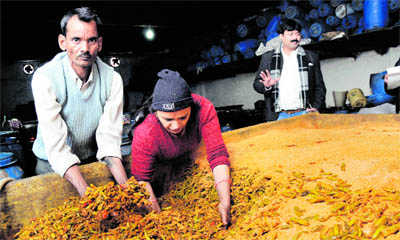 Don't remember the last time you made a tangy aam ka achaar at home? Try… Well, if you can't, blame Panipat, with a finger-licking self-apology! Let's get the spice of it for you owe it to your taste buds.
As you drive away from Delhi on National Highway Number 1, the historic city of Panipat emerges uneventfully, its usual humdrum lost to a series of flyovers. The rich, fertile land on both sides of the highway is a sort of a give-away for a variety of seasonal vegetables that grow in abundance. Take a detour for the interiors: You are tantalizingly close to where the pickles lie.
Old timers say there were several pickle outlets on NH-I before flyovers came up. "Nearly half of them shut shop because customers pass the city by over flyovers. Not many skirt a bridge and deign to visit the city thoroughfares," says Raj Kumar, a pickle outlet owner.
As you move on further, there are about 15-20 pickle factories with around 100 outlets on both sides of the highway, selling achaar of your choice, in so many brand names -- Pachranga, Popular, Pooja, Anu etc. Offering hundreds of jobs, the pickle factories account for an annual turnover of around Rs 40-50 crore. Besides the local market, the pickle is exported to Europe, the USA, UK and many West Asian countries.
Jitender Juneja, owner of Popular, says his father Om Parkash started his business in 1984 on a cycle. The brand name came in 1993. "It is a stock-dependent business. The availability of raw material such as vegetables and spices varies according to the season. Also, the taste of the people has changed: tangier and spicier it is the better, says Juneja.
The home-touch is what they bring in. "We get mustard oil and ground spices to add to that tingling taste," says Om Parkash, owner of the Famous pickle industry. Ditto for Panipat's very own Pachranga brand. There are half-a-dozen factories owned by Dhingra and Malik families. However, several other manufacturers in the area selling under the same brand name cause confusion.
Anand Malik, owner of Pachranga Agro, Sector 25, says the brand has its roots in Pakistan with the first outlets sprouting up in the 1930s. "My father's maternal grand-father Murli Dhar Dhingra created the brand Pachranga. Close relatives from my father's side brought the family business to India in 1943," he said.
And this is what they do: since various vegetables take different time for maturation, it takes around one to three months for a pickle to get ready for consumption: Mango takes up to one-and-a-half months, lemon about two months and green chilli takes a month. A pickle has to go through two stages. First, raw material is cut and sorted as per the type of a pickle. Then the cut material is kept for maturation after adding relevant spices plus sweeteners like sugar, jaggery whereever necessary. The sweetness or sourness is tasted in regular intervals. In the second stage too, the sorting process is conducted, but this time, the spices' ratio has to be kept in mind. And after the final nod, a pickle is packed in boxes of various measurements.
The industry has been gradually growing on the back of a consistently rising demand for the home-like pickle. "We have reduced a housewife's burden. We have very seriously taken up what's being liked and what maximum we can do, given the fact that a consumer has an array of food products to choose from," Malik said.
"The younger generation doesn't have the time to cook or make such sinfully necessary add-ons at home. And they want a wide variety. So, we prepare at least 14 kinds of pickle," says Jitender Juneja. "Mixed pickle, mango, lime, green chillies, amla, carrot pickle, radish, turnip, garlic, onion and red chilli pickles top the demand chart," says Malik.
That's why people like Yogesh Kumar come all the way from Kurukshetra to buy their best stuff from Panipat. "Pickle of Panipat has a distinct taste. My family members prefer to buy pickle from here," says Yogesh. And for Rashi, distance from Delhi hardly matters. "Panipat pickle has no alternative," she says, in a quick surrender to the taste of the town.
Top News
The decision amounts to creating a parallel jurisdiction, ta...
No suspicious objects have been found yet, say police
During today's games, a generator would be required to power...
'In Punjab, Rs 11 is considered a 'shagun', so I am announci...
Secretary of State Blinken was responding to a question on t...