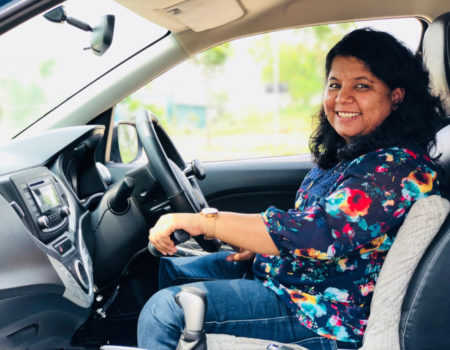 Women entrepreneurship in India is growing exponentially, and this is reflected in over 8 million women entrepreneurs at the helm of ventures in different sectors in the country. Their "fair" contribution to the start-up ecosystem is changing the contours of the socio-economic development of the country. Geetu Vaid traces the journey of four women who have carved a niche with their unique ventures
Making a difference
Dr. Anita Sharma Founder, On My Own
Anita's story is one of grit and determination and of the spirit to give back to society. Anita was paralysed waist down after contracting polio when she was just six months old. After nine major surgeries, she could walk with the support of crutches and calipers and went on to earn a PhD. from IIM-Indore in disability and entrepreneurship. While helping some friends with disabilities learn car driving she realised the difference this skill could make in increasing their confidence and in reducing dependency on others. This led her to start her venture On My Own, which is one-of-its-kind driving school for the physically challenged. "I explored about driving schools for people with disabilities in India and called up more than 2,000 driving schools only to find that none of these offered driving sessions to people with reduced mobility because they did not have any retrofitted cars (i.e. modified cars with hand control) needed for driving sessions for people with reduced mobility. This was a gap that needed to be filled", she recalls. Based out of Amritsar at the moment, Anita currently has two retrofitted cars with hand controls. But it is not just driving lessons that her venture provides, there are regular coffee conversations wherein she engages with people with disabilities and provides a platform to inspire and 'ignite' each other. Assistance is also provided to get driving licences and customised cars.
Key achievements
The biggest achievement is the 'smile' and 'appiness' on the faces of those who had never thought that they could drive. "The moment when someone sees 'hope' in me is biggest achievement", she adds.
Challenges
Convincing people with disabilities and their families to learn car driving. On My Own is not a charity business. I do not want PwDs to be treated as a subject of charity and charges a nominal fee for the sessions.
Future plans
My biggest dream is to design a car in which wheelchairs can go in directly to make life of wheelchair users easier as currently, they have to shift from their wheelchair to the car seat. Expanding the reach to other cities. Getting network of trainers who could teach on modified cars.
ShEO mantra
"Entrepreneurship is just not any alternate career option. It is a decision to live for your passion and for the hope of others. When you are into social entrepreneurship then you become the 'hope' for someone. It is a challenge worth accepting", says this gritty entrepreneur.
Money matters
Ankita Jain Co-founder & Chief Marketing Officer, GoPaisa.com
Fired with youthful energy Ankita Jain's biggest challenge while establishing herself as an entrepreneur was her age. At 24 she was considered too young by business associates and the fact that the concept that she and her co founder were selling was a new one in India did not make things easy for them. An MBA in marketing, Ankita has virtually introduced India to CashBack concept with her venture GoPaisa.com. Sharing her journey Ankita says, "I got a chance to work for a couple of FM channels, like Radio Mirchi and Big FM. While I was working for these radio stations, I also had a lot of interest in digital marketing field. Back then, the e-commerce in India was at a very nascent stage, so for additional income, I used to do digital affiliate marketing for companies in US and UK and slowly and gradually, I started earning more than my salary. So, my co-founder Aman, and I decided that instead of promoting international brands we would promote our own brands and we decided to get the Concept of CashBack to India in 2012". Currently more than 1 lakh users earn CashBack with GoPaisa.com. A sum of Rs 59,34.789 CashBack was distributed in the month of August and GoPaisa has witnessed 25,000 to 30,000 daily unique visitors.
While her parents did not want her to leave a secure job, she was dismissed as being too young by prospective clients. "So. I worked really hard and got the numbers, and it is these figures that speak for themselves". Now they have 2000+ brands associated with them. "Right from Flipkart, Paytm, Dominos, Makemytrip, Netmeds to Amazon, Bluestone — you name it and we have it", she adds.
ShEO mantra
Just go out there and do it and don't be afraid of taking risks. There are lot of hindrances that will come your way but use them as your stepping stone to success.
Strong logistics
Divya Jain Founder & CEO, Safeducate
Gauging the need for skilled manpower in the supply and logistics sector and using a unique concept to train people is what makes Safeducate stand out in the edu-tech realm. Armed with an MBA from St. Edmunds College, University of Cambridge and LLB from University of London), Divya Jain had always dreamt of making a difference, changing lives and leaving behind a legacy. Safeducate is a first-of-its-kind initiative for the supply chain and logistics industry with the focus being on solving the manpower shortage in the industry. "In the past 11 years we have trained more than 70,000 rural youths and ensured that they get dignified employment and standard of living", says Divya adding that Safeducate has 57 schools across the country to train students chosen from different villages and small towns to join the sector.
Her journey from hiring her first employee to managing a team of 450+ today, to proving herself in a fairly male-dominated landscape and expanding to fill in the need existing in the current education system, has been a challenging one. "When I started the biggest challenge was that it was a really different concept. People understood the idea of a college or a university or even a school, but vocational education, and that too based out of schools made of containers and in the field of supply chain and logistics, was too foreign a concept". Also, as the industry was so unorganised, the value of certification and training itself was a massive question mark for her. Convincing people to join this field was another massive challenge, as they didn't really understand what the industry was about.
Future plans
Safeducate plans to skill and train a million people over the next 10 years. "We are currently working on skill development projects with the Rajasthan, Madhya Pradesh, Bihar, Assam, Jharkhand, Chhattisgarh, Uttar Pradesh, Maharashtra, Punjab, and Orissa government", she adds. Work on an ed tech product based on AI to create customised learning outcomes is also in progress.
ShEO mantra
I do encourage all women to identify their strengths and work. It is essential for their own personal growth and also of their families as well as society.
Caring for the elderly
Deepti Atrish, Founder and CEO, Poonyah
Even as her venture Poonyah is just a few months old, Deepti Atrish's story is worth sharing as her venture addresses a major problem being faced in Indian cities and towns. The care of elderly and of parents whose children are living elsewhere, is an issue that has often garnered spotlight. Deepti, who lived in London was increasingly worried about her mother's well-being post her father's demise. Her concerns grew multifold when her mother was diagnosed with signs of early dementia. Instead of incessantly worrying about the same, Deepti felt the need to develop a platform for children, especially those who stay away from their parents and can't constantly monitor their health and cater to their needs.
This inspired her to attend numerous seminars and conferences on geriatric care in London and seek advice from professionals specialising in this field. This combined with her sound technological and entrepreneurial background led to the development of a platform that could connect the family members with their loved elderly ones, thereby enabling them to look after their general health and well-being from miles away. Poonyah was incepted in February, 2018 and was launched in October, 2018 in India.
Key achievements
As Poonyah has just begun its journey this year in India, the major achievement that it has witnessed is, that Deepti has been successful in creating an ecosystem for seniors where not only can their health be monitored, but they can also get assistance at any point of time easily. Poonyah is planning to set up its offices in the NCR region in a couple of weeks. In the coming months, the company intends to cover Uttarakhand, Himachal Pradesh and NCR, subsequently spreading across the nation.
ShEO mantra
Customer satisfaction and constant feedback is the king, all the learning lies there. I would strongly advise to focus on building a good product. Outsource your work and take out time regularly to spend quality moments with family. Don't try to do everything yourself.