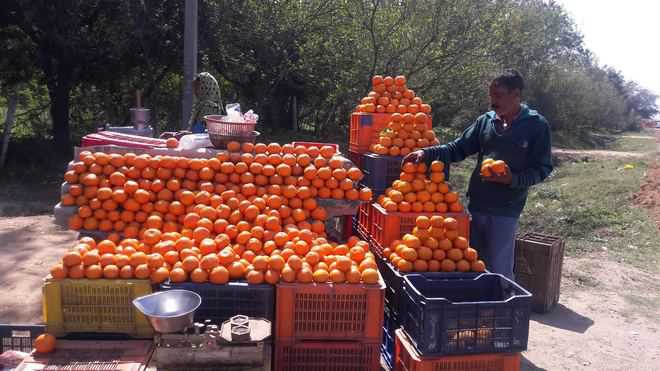 Satinder Pal Singh
Dera Bassi, March 9
With the onset of spring, kinnow sellers along the Dera Bassi-Ambala highway near Devinagar village seem to be mushrooming — catering to a brisk business.
The Chandigarh-Zirakpur stretch near Singhpura village is dotted with kinnow vendors who seem to make the most of the season.
The vendors attract health-conscious customers — fruits being a natural body coolants with essential vitamins and minerals.
Zaid Khan, a vendor, has set up a pushcart on the highway. He has been selling a regular glass of juice at Rs 20 and big glass for Rs 30 helps — making around Rs 500 per day.
Many others like him are making good money along the highway with tourists and two-wheelers stopping by to enjoy fruits and juices. Zaid said the masses had now become health conscious and did not mind spending more on fruits.
"Our business starts at 9 am and continues till 5 pm," said Zaid. He said he earned Rs 1,000-1,500 per day and expected a good business in coming days, as the mercury would roar up.
He said passers-by have developed fondness for the fruit. Some of them buy it in large quantities, while others stop to quench their thirst.
"The heat makes people to resort to fruits and juices. It is not only refreshing, but a great source of energy also,'' said Rasheed, a passer-by.
The rate is negotiable between Rs 30 to Rs 40 per kg. However, for bulk supplies, rates could be negotiated further, said a kinnow seller who has been in the trade for more than 15 years. A majority of the vendors have installed machines for extracting juice.
While residents lookout for ways to beat the heat, roadside fruit kiosks in the city are making most of it.
Top News
The minister inaugurates Chief Judicial Magistrate court, Ma...
'I am Rahul Gandhi, not Rahul Savarkar,' he said when asked ...
Former Union Minister Ravi Shankar Prasad says stay on convi...
The plea is filed by a Kerala-based social activist
Ghanghas is the 6th Indian boxer to be crowned world champio...