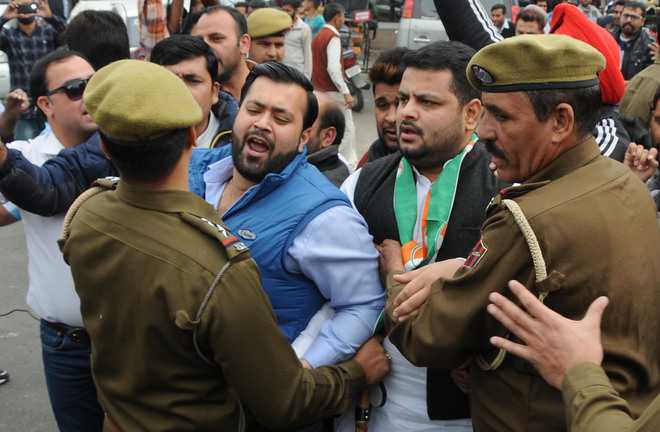 Dinesh Manhotra
Tribune News Service
Jammu, November 23
Squabbling in the "disciplined" BJP gets murkier after reports of some party ministers allegedly involved in corrupt practices surfaced in a section of the media and went viral in the social media.
Instead of clearing the party's stand on reports emanating from different quarters about the alleged involvement of their ministers in the misdeeds, BJP spokespersons have maintained silence.
While the BJP's arch rival Congress has already launched an agitation to get alleged corrupt ministers exposed and sacked, party (BJP) leaders have themselves started a whispering campaign to demonise their own ministers. As the local media has not mentioned the name of any BJP minister involved in corrupt practice, the "disciplined" party leaders are all out to seize this opportunity to point fingers towards those ministers who do not belong to their respective lobbies.
There are seven plus one Cabinet ministers and three Ministers of State (MoS) in the Council of Ministers from the BJP quota. Supporters of every minister are pointing fingers towards each others to settle personal scores.
A senior BJP leader told The Tribune that already letters in this regard had been faxed to the party high command to take cognisance of the reports. "About 20 letters have so far been faxed to the high command till this evening by BJP leaders against their own ministers," he said and revealed that a meeting of senior leaders was held at the party headquarters to discuss the situation but there was no unanimity among leaders to deal with the issue.
Highly placed sources said a couple of leaders suggested that the party leadership must approach the top police officers to ascertain fact in this regard, but this suggestion was rejected by another group who demanded that all ministers should be summoned to the party office and asked to clear their position before workers and leaders.
The local media had reported that on Tuesday that the police intercepted an official vehicle of a BJP minister with demonetised currency worth crores but the same was not seized. Similarly, another BJP minister has allegedly taken Rs 13 crore bribe for giving permission to construct flats by violating all norms.
Top News
The survey said the pace of price increases is not high enou...
81-year-old is currently lodged in a Jodhpur jail, where he ...
Was addressing the joint sitting of both Houses of Parliamen...
Baljinder Singh and Harpreet Deol Both are Pentecostal pasto...
135 people were killed in last year's suspension bridge coll...