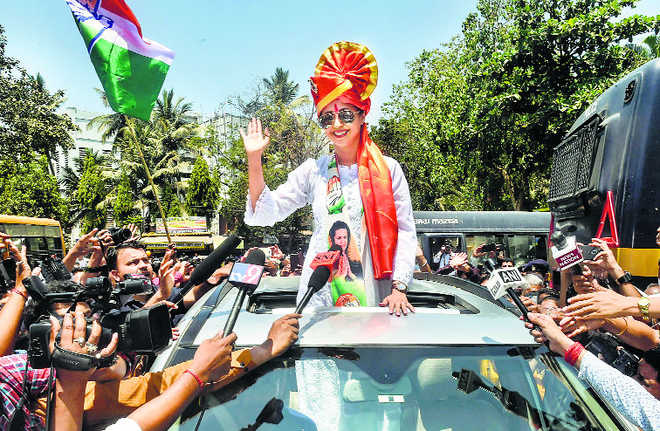 CS Venkiteswaran
Stars are the product of signification. Stars are mediated identities, textual constructions, for audiences do not get the real person but rather a collection of images, words and sounds which are taken to stand for the person. From their familiarity with a range of star texts, moviegoers form impressions of that person so that the star becomes a collection of meanings". The Star System — Paul McDonald
What is it that turns the star as a 'collection of images, sounds and words' into a 'collection of meanings' for a society? An actor who turns into a 'star' with a body of work behind him is associated and identified with certain ideas, ideals or values. The aura created around the star is sometimes consciously built through selective narratives or by the industry (as in the case of MGR) or happens through the sheer power of star image that defies all logic (as in the case of Rajinikanth, for instance). Seldom does the popular appeal of the star readily transform into political appeal, or fandom translate into votes. Whenever and wherever it has happened, there existed a combination of factors like the acting persona, popular appeal and personal charm of the star on the one hand, and the socio-political formations of the moment on the other, that made the rise of the star-politician possible. It's also accompanied by the simultaneous erosion of realpolitik, where rhetoric takes over basic issues, and people are swayed by words and images rather than deeds and facts. This transformation of the actor/star into politician/ruler is also something unpredictable and mysterious. While a few stars like MG Ramachandran and NT Rama Rao could make it, many others, both in North and South India, only achieved partial success or no success at all.
What makes a star-politician
Film theorists and critics have grappled with this phenomenon for long. While early writers like Chidananda Dasgupta explained star's political avatar as an aftereffect of their 'mythological' past in cinema, where people identify them with gods or divine figures, many others relate it to intra-psychic or affective factors, where the individual fans transcend or supplement their lives by seeking avenues of pleasure, sense of community, or enjoy forbidden fantasies through the stars they adore. Madhava Prasad explains the transformation in his book Cine-Politics: Film Stars and Political Existence in South India, thus: "We are confronted with the transformation of identifications into virtual political institutions. We are thus no longer in the realm of the individual, intra-psychic fantasy, but in concrete programmes of political utopia realised in the social world and affecting even those who never participated in the fantasy. Fantasy here reaches out and occupies the place of the universal, the law itself."
The origins, causes and effects of such star phenomena differ from place to place, context to context. The case of MGR and NTR, Sunil Dutt and Amitabh Bachchan, Chiranjeevi and Vijayakanth, Rajinikanth and Kamal Haasan, all differ and each one has a different story to tell. It was the long and vibrant history of Dravidian politics, led by stalwarts like Periyar, Annadurai and M Karunanidhi and their groundwork at the grassroots level that launched MGR as a star, facilitating his entry into politics and eventual ascent to chief ministership. A slew of films scripted and directed with a clear political vision and intentions, with MGR as the hero, contributed to the making of his star image and public persona. The mythology created around this body of work, when the right occasion came up, successfully erased the boundaries between the reel and the real, gifting the star the mantle of political power. According to Prasad, MGR went on to transcend the role assigned to him by DMK as the bearer of the party message, turning into a star who then becomes the only message of the film, with the narrative and character dynamics falling in line to create the omnipotent hero, admired and desired by all.
In the case of NT Rama Rao in Andhra Pradesh, a different combination of factors was at work. Though many attribute his rise to power to his mythological roles, it does not prove to be true if one looks at his oeuvre. In fact, NTR acted in more 'socials' and only in a few mythologicals, while MGR never acted in any. Another factor that contributed to the rise of the stars during the MGR-NTR era is the importance of oratory in political campaigning. While stylised and polemical Dravidian oratory was instrumental in the popularity of DMK politics and the cinema narratives DMK encouraged, in the case of NTR too, 'combining speech in classical-sounding Telugu with theatrical body movements and gestures, was of crucial importance for the leakage of the cinematic into the electoral' (Politics as Performace: A Social History of the Telugu Cinema by SV Srinivas).
Factors at play
NTR's ascendance has been explained as a combination of factors like the growing economic clout of the agricultural castes, especially the crystallization of the power of Kammas. As Srinivas observes, "It is apparent that the arrival of NTR the politician implicates the Telugu cinema and film industry quite directly in the ascendance of erstwhile Presidency peasant-turned-entrepreneurs to the centre stage of politics." According to Uma Bhrugunanda, "NTR's screen image was able to provide the ingredients for legitimising his representative claims and the forging of the Telugu identity." The growing disillusionment with the Congress and the political vacuum it created added the needed momentum. Interestingly, unlike MGR and the DMK, NTR's Telugu Desam Party was created out of the blue, without any legacy of social action or ideological struggle. But in both cases, it was a confluence of various factors that made the transformation of a star into a leader viable. In the case of Jayalalithaa, more than the star power, it was her claim as the sole and legitimate successor of MGR.
Even while MGR and NTR made it big in politics, their contemporaries in the neighbouring states, Rajkumar in Karnataka and Prem Nazir in Kerala who commanded similar public appeal, never took the plunge. Though Rajkumar was a huge political presence that swayed political fortunes and public agenda in Karnataka, be it Gokak agitation, sons of the soil issue or the Kaveri water dispute, he never openly aligned with any political party. Prem Nazir, though a Congress sympathiser, never contested. Like Rajkumar, Rajinikanth has maintained his distance from politics, but repeatedly makes covert and overt reference about political issues. As for Kamal Haasan, his Makkal Needhi Maiam seems to have taken a very cautious line, remaining 'independent' yet slightly left-leaning. Haasan seems to be testing the political waters before taking the plunge. Here too, more than the star power, it is realpolitik in focus, with stardom as supplement.
In the case of other hopefuls like Chiranjeevi, Vijayakanth, Sarathkumar, Khushboo, Napoleon and now Kamal Haasan, the path has not been an easy one, despite the fact that all of them commanded a great popular appeal and fan base. It seems that the political power equations at the ground level has either got fragmented or changed. It is no longer the one crying for a star-leader wielding enough charismatic power to inspire and integrate the people of a region, community or linguistic group as a whole. What they could do was create some local consolidations in terms of community or specific issues.
Role reversal!
In this election, what we find is, more than film stars contesting for elections, politicians themselves are being presented as stars in films. In the run-up to the present elections, we had a series of biopics on politicians, 'regional' and 'national', ranging from Narendra Modi to Manmohan Singh, and YSR to Thackeray. Instead of transferring acquired star image to make political impact, here the tactic is reversed. Here, the narratives of established politicians assume tinsel avatars to usurp image-capital, through movies that adulate or deride. Is it an indication of things to come — the shift from star-politicians to politician-stars?
X-factor they bring to the table
Transformation of stars into leaders of the kind of MGR and NTR may be past, but movie actors could still work as an additional X-factor in many constituencies, provided other factors are favourable. In most cases, stars need the support and sponsorship of an established regional or national party to win the seat. It is a win-win, no-loss situation for the political party and the star, for a win or loss will not affect either of them too dearly. In the Hindi belt, no stars could garner enough fan base or adulation to make a leader of at least state-level influence and appeal. Richard Dyer in his book, Stars, makes a distinction between stars as a 'phenomenon of production', as part of the economic control of the film industry, and as a 'phenomenon of consumption' that arises from the meanings represented by stars to the audiences. The history of the rise of stars as politicians show that though both these phenomena work in the entertainment industry, for them to translate into political mandate and power presupposes other socio-political synergies. Though both the star and the leader command public admiration and fanatic following, movies and politics are different ball games altogether. For, at the end of the day, while the producers and the industry make and maintain stardom, in the case of politics, though such financial and image capital do have much say and influence, there is an element of accountability of some sort, at least in the form of periodical elections. Surely, the star's glamour and celebrity image is useful in the political arena to attract the voters, and give them initial advantage in the campaigns. But such star power is only enough to gain personal victories in certain constituencies. In the case of the likes of MGR, it goes beyond winning a seat through aligning with existing political formations. Stars like MGR, Jayalalithaa, NTR, etc., could inspire a whole population, inflame their imagination by appealing to their cultural identity or linguistic pride, and stem and sway political tides. But such star phenomena are rare, because it presupposes a constituency of voters/people who are potential followers, and are ready to go beyond or sacrifice their other identities and affiliations — of caste, community, region, religion, politics, culture, ethnicity, language, etc., and merge with their icon. In a world where social media has effectively consolidated and also fragmented all the constituencies — communal, cultural, linguistic or regional — it has become difficult for such star formations to happen. They need longer time scale and consistent attention span, but the new dynamics of communication that is no longer top-down but viral are not amenable for such unfolding. It impacts upon the socio-political discourses and public agenda as waves of influence. So, the forms of hero worship and trajectories of iconisation, too, have changed and the present situation calls for totally different strategies of mobilisation and consolidation.
Top News
China is yet to name its Ambassador to India after Sun Weido...
In his police complaint, Sikh priest says 'Waris Punjab De' ...
Scotland Yard blockades area outside India House, several ad...
Minister for Water Resources Gurmeet Singh Meet Hayer moves ...