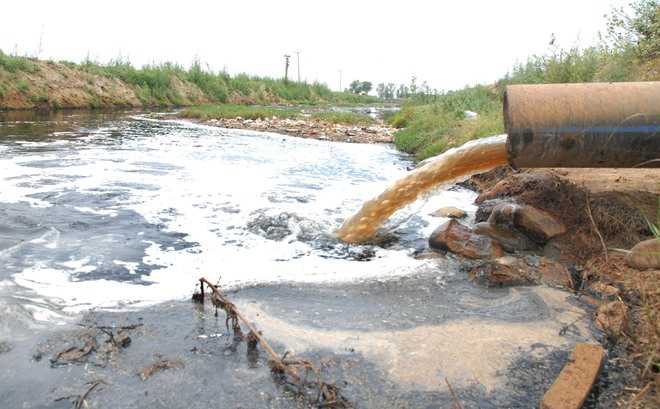 Parvesh Sharma
Tribune News Service
Chandigarh, July 7
To contain pollution in the Ghaggar river, pollution control boards of Haryana, Punjab and Himachal Pradesh have increased the number of joint sampling points (JSP) from 18 to 21.
A JSP is a point from where joint teams of the three states have been collecting water samples from Ghaggar to ascertain the level of pollution.
A last month's meeting of the three boards decided to start joint sampling at Bhangra, Gwalthai and Brahmla villages in Himachal Pradesh in addition to 18 points earmarked earlier.
This year's reports show that near Kakrali village of Haryana, the level of pollutants in Ghaggar jumped from 4.6 mg to 7.7 mg after the discharge of polluted water. Similarly, near Tiwana village in Punjab, pollutants increased from 40 mg to 62 mg. The discharging of pollutants from several points in both states has been fuelling toxins in Ghaggar.
At the meeting in Panchkula, it came to light that effluents from Barotiwall and Baddi in Himachal Pradesh were potential sources of pollution of Sutlej rivers.
Effluents from Parwanoo have been causing pollution in Kaushliya river and Sukhna Nullah, which ultimately pollutes Ghaggar. Effluents from Kala Amb are causing pollution in Ghaggar through Markanda. And in Una, effluents are being discharged in Swan; it ultimately pollutes the Sutlej river.
"During the meeting, the Himachal Pradesh State Pollution Control Board said it plans to install a Common Effluent Treatment Plant (CETP) at Parwanoo and Kala Amb to prevent pollution of Ghaggar," said an officer of the Haryana State Pollution Control Board (HSPCB) on the condition of anonymity.
SN Roy, chairman of the HSPCB, said he was unaware of the details of the meeting.
The Chandigarh authorities will also be invited for a meeting this month.
Top News
Jaishankar meets UN Secretary-General Antonio Guterres and P...
Canada is home to about 770,000 Sikhs - the highest populati...
Canada has alleged that Indian authorities were behind Nijja...