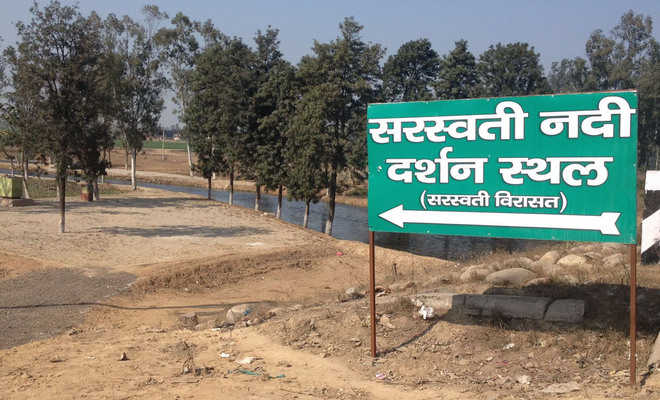 Vishal Joshi
Tribune News Service
Kurukshetra, February 3
Even as the Haryana Government has announced to celebrate a three-day Saraswati Mahotsav from next week, a central panel of experts has yet to furnish any scientific evidence on the river that ceased to exist more than 10,000 years ago.
Union Minister Uma Bharti and Governor Kaptan Singh Solanki and a battery of BJP parliamentarians and legislators from the state will be part of the events scheduled to be held in Kurukshetra, Kaithal and Yamunanagar districts.
On April 21 last year, the government had started digging near Adi Badri in Yamunanagar district to create a water channel of the erstwhile Saraswati river up to Pehowa in Kurukshetra district. During digging in Yamuananagar's Mugalwali village, workers had, on May 5, hit upon a chance discovery of water current from several spots. Water was spotted at a depth of 2 to 3 meter along the earmarked route of digging, which was started on the basis of revenue records of Saraswati. It was claimed water was a palaeo channel of now inactive Saraswati river.
The information gathered by The Tribune, however, said no scientific study had been undertaken by the authorities to corroborate the claim that water extracted from the Yamuananagar village was related to the ancient river. The Ministry of Culture constituted a 24-member group of experts from archaeology, earth sciences and glaciologists to work on river.
Formed on September 6 last year, the multi-disciplinary committee headed by Union Culture Minister Mahesh Sharma would work "to define Saraswati and its basin". Experts, meanwhile, said it was premature to tag and promote water traces along the mapped ancient river course as Saraswati on the basis of a belief of a section.
"The project needs intensive multi-sampling-based research before determining it as the Saraswati river paleo channel. Though Saraswati dried channel is clearly marked on the India's topographic sheet, but to call underground water as Vedia-era river is unjustified. A detailed study, including dating of sediments, may hint at water source detected at Muglawali and other sites on the Saraswati track is required and it cannot be labelled the ancient river without scientific basis," said an earth science expert, requesting anonymity.
Top News
The nasal vaccine—BBV154 -- had received DCGI approval in No...
Egypt's President Abdel Fattah al-Sisi is the chief guest at...
Announcement was made by Adviser to the UT Administrator Dha...
It reflects the 'myopic' mindset of those in power at the Ce...
In the last year, more than 70,000 people globally have been...