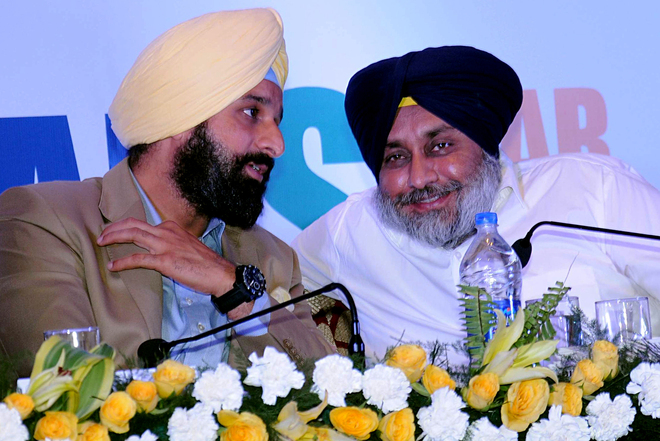 Ruchika M Khanna
Tribune News Service
Chandigarh, July 23
Punjab got a thumbs-up from solar power project developers, including representatives of a French solar company, for emerging into a major solar power generating state. Buoyed by industry response, the state is now looking at generating 2,000 mega watt of solar power by 2016-17.
The Go Solar Punjab summit got off to a good start today, with top representatives of major solar power companies attending the event. Anuj Punj from Punj Llyod Infrastructure, Rajkumar Roy from Lanco Solar, Gaurav Sood, MD of French company Solairedirect, SS Chadha from Radha Soami Satsang Beas (which has set up the largest rooftop solar plant), Preet Sandhu from Azure Power, TR Kishore Nayar from Welspun and KS Popli, MD of Indian Renewable Energy Development Agency (IREDA), were amongst the solar industry big wigs to have graced the occasion.
With Punjab having successfully taken its solar power generation from 9 MW in 2012 to 210 MW now and targeting to reach 541 MW by March 2016, the industry big wigs who had gathered here, showered praises on the state government's policy for clearing projects and acting proactively to provide land for setting up the solar power projects. The developers said that their projects had been cleared within minimum possible time and praised the transparency in the working of the Investment Promotion Department.
Speaking on the occasion, Punjab Deputy Chief Minister Sukhbir Singh Badal today announced Punjab would encourage farmers to establish mini solar plants on their own land, while he announced that the state government was open to subsidising the installation of solar plants for fuelling the 1.25 lakh tube wells – which have just been given a go ahead by National Green Tribunal. "We can divert money being given to PSPCL as subsidy for free power for agricultural operations for installation of these pumps. This will reduce the burden on thermal power and also reduce the free power subsidy quotient in the long run," he added.
State's New and Renewable Energy Minister Bikram Singh Majithia said that the state had been at the forefront of the green revolution, had now taken the lead in establishing a green power revolution in the country. He said it was to the credit of Punjab that it had succeeded in its Go Solar mission despite constraints of land. "We do not have any wastelands or deserts nor are we big states like Rajasthan and MP".
Top Stories