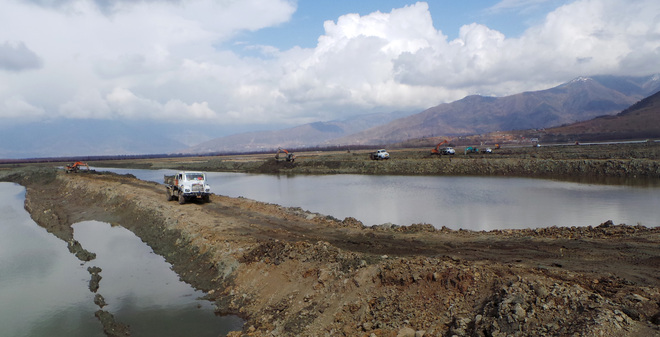 Majid Jahangir
Tribune News Service
Srinagar, April 19
Even as J&K is in the process of pr\eparing a Detailed Project Report (DPR) for a new flood spill channel from Dogripora in south Kashmir to Wular in north Kashmir for preventing floods, the Central Water Commission (CWC) has asked the state government to study the retaining capacity of the Wular Lake.
The J&K Government has also been asked to see whether the proposed 80-km-long spill channel, which is termed vital by the experts for long-term management of floods in Kashmir, will have any implication for the Indus Water Treaty (IWT) between India and Pakistan.
The Centre has already directed J&K to prepare a DPR for the spill channel.
"We have been asked by the Ministry of Water Resources to formulate a DPR on the alternative channel and we will be doing it soon," said Chief Engineer, Irrigation and Flood Control, Javid Jaffar.
He added that the CWC has raised queries on the proposed spill channel that mostly included technical and environmental aspects of the proposed project.
"The CWC has asked whether the Wular Lake, where the proposed channel will open, has the retaining capacity once the new channel is constructed and its impact on environment. They have also asked if there will be any implication for the Indus Water Treaty," he added.
The additional spill channel that would cost Rs 20,000 crore would have a discharge capacity of nearly 55,000 cusecs.
The Jhelum that runs through Srinagar has the capacity of carrying 35,000 cusecs and the existing flood channel has a capacity of 12,000 cusecs.
In September last year, when the floods hit Kashmir, over one lakh cusecs of water passed through Jhelum, submerging 70 per cent of Srinagar.
"The new channel is a vital long term measure to save Kashmir from floods," said an engineer from the Flood Control Department. "However, the feasibility of this channel depends on the water upholding capacity of the Wular Lake and the outlet discharge carrying capacity," he added.
The engineer said when huge flood discharge of Sangam will be put in Wular, it should be able to balance the inflow with the outflow with the help of its storage capacity. "If this balance is not achieved the purpose of the flood channel may not be fulfilled," he added
Top News
One of the highest honours Washington affords to foreign dig...
WFI chief demanded sexual favours in lieu of supplements and...
Said agitation will be intensified by holding panchayats acr...
Vaishnaw said his ministry had recently launched the 'Sancha...
'We are distressed and disturbed at the unseemly visuals of ...