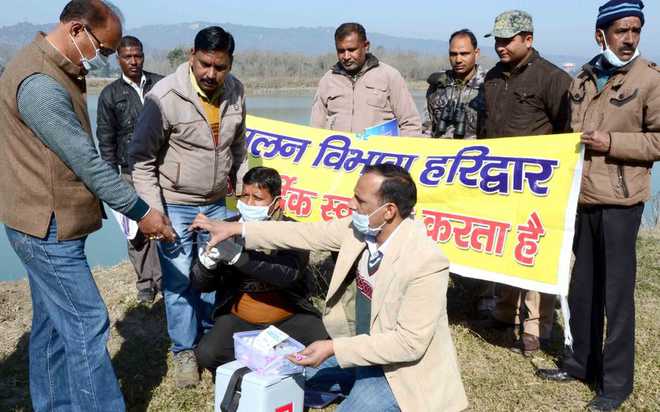 Sandeep Rawat
Tribune News Service
Dehradun/Chila-Pauri /Haridwar, January 13
Uttarakhand is under threat of avian influenza as during the winter season thousands of birds arrive to this part of the country from European and Siberia-Russian region.
Particularly in Haridwar at Neel Dhara Ganga river bank adjacent to Rajaji National Park, these migratory birds arrive in large numbers and these days one can see almost more than five varieties at this place.
In the wake of the recent cases of swine flu in Chandigarh region, particularly at Sukhna Lake, Rajaji National Park administration of Uttarakhand has issued an alert in the park region too.
Today a joint team of Animal Husbandry, Forest and Rajaji National Park avian experts inspected the Bhimgoda area in Haridwar, where a large number of migratory birds have arrived.
Samples and medical tests of these avian birds were done and these will be sent to Bhopal laboratory.
The joint team will also conduct tests at poultry farms in Haridwar as precautionary measure.
Talking to TNS Chief Animal Husbandry Officer, Haridwar, said that from Siberia thousands of birds arrive at Bhimgoda-Neel Dhara Ganga banks in winter, to bask in the sunshine.
"An alert has already been issued in the wake of swine flu cases found in Chandigarh. These birds are being monitored by avian –medical experts and dropping samples are being taken, which will be send to laboratory in Bhopal. Water sampling is also being taken and future course of action depends on the results of the laboratory samplings .At the moment no prima facie symptoms of swine flu have been diagnosed or found in preliminary tests and observation, said Nayal.
Chila, Pauri Garhwal, Ranger DP Uniyal said that park administration did not want to take any risk, so along with doctor "on a daily basis we are carrying out observation. We have also made temporary base camp at the major sites, where migratory birds arrive in districts of Haridwar, Pauri Garhwal, Dehradun and Tehri Garhwal in Uttarakhand."
Top News
Action taken under relevant Section of Unlawful Activities (...
Says wants it to commit constructively to establish facts
Blinken says it is 'important for India to work with the Can...
Adhir Ranjan Chowdhury, the Congress leader in Lok Sabha, sk...
Current data from student visa processing agencies suggest t...