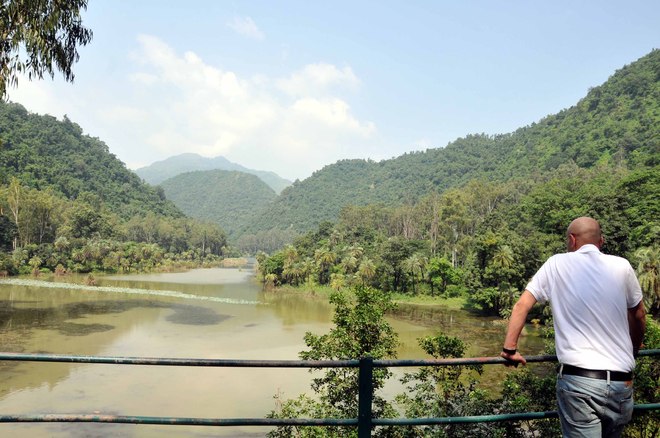 R Sedhuraman
New Delhi, October 14
The Supreme Court today took the Centre to task for its inaction in the proposed construction of the Rs 5,242 crore Renuka Dam in Himachal Pradesh ever since the project was declared a national project in 2009.
A Bench, headed by Justice TS Thakur, asked Solicitor General Ranjit Kumar to come with concrete proposals within four weeks, including the state's demand for meeting the land acquisition cost.
Accepting the contention of senior advocate JS Attri who argued for HP that the state had utilised the project funds, the Bench rejected the Centre's stand that the funds had been diverted to other heads.
Attri said the state had spent about Rs 270 crore so far – Rs 166 crore for acquiring land, Rs 29 crore for relocation and rehabilitation of the oustees and Rs 25.5 crore on survey and related work, besides incurring overhead expenses of Rs 48 crore.
Of this, Rs 214.84 crore had been paid by the Delhi Jal Board since the dam is primarily meant for providing water to the national capital as per its entitlement and Rs 25 crore by Haryana, a riparian state of the Yamuna river. The project will come up across the Giri river, a tributary of Yamuna, in Sirmaur district.
Now that the dam has become a national project, the Centre will have to meet 90 per cent of the expenditure.
Today, the SC also said it would not quash any acquisition of land meant for the project. Attri had pleaded that funds were required to pay compensation to the farmers whose land was acquired for the project. Some land acquisitions would lapse soon unless the compensation was paid as directed by the Himachal High Court, he pleaded.
HP also has a stake in the project as it will get 40 mw of electricity from the project free of cost.
On July 9, the SC had issued notice to the Centre and the Delhi Government on the state's petition seeking Rs 1,981 crore to be paid to farmers and for meeting the project cost. HP has moved the SC as it is not in a position to pay further compensation to comply with an HC order passed on November 20, 2014.
The pipeline from the dam to Delhi could also be utilised for sharing the Yamuna waters with other riparian states – Haryana, Uttar Pradesh and Rajasthan.
Top News
The CBI has registered an FIR in connection with alleged irr...
Says CBI raid 'reward' for good performance
Punjab ministers Harjot Bains and Chetan Jouramajra also sla...
West Delhi BJP MP Parvesh Verma accuses Sisodia of corruptio...
5 kidnappers arrested; wanted to sell the child for Rs 50,00...