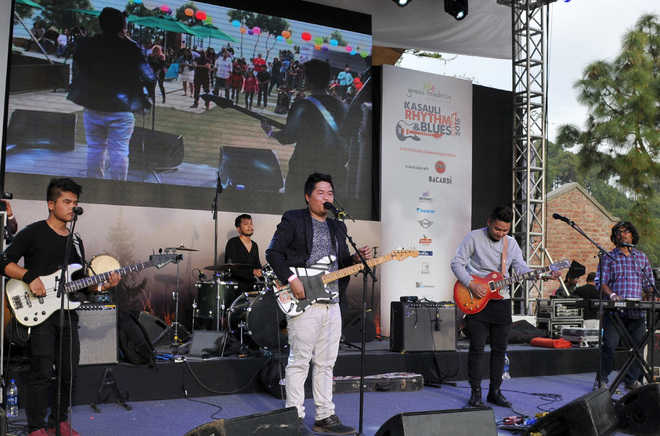 Amarjot Kaur
Tribune News Service
Kasauli, march 25
As Kasauli geared up for the fifth edition of the Kasauli Rhythm and Blues Festival, attenders struggled their way to Baikunth Resorts through a heavy traffic jam.
Though the construction on the highway stood in the way of Kasauli's scenic view, the festival started on a rather frisky note with Mizoram-based band Frisky Pints adding colour to the changing shades of the mountain skies. It provided a crisp backdrop for a conversation with the organiser of the festival, Jyoti Sagar, the founder trustee of The Genesis Foundation, a trust that provides medical treatment to children from the economically weaker section of society and orphans.
"This is not a CSR activity. It's a fund raising for the treatment of critically ill underprivileged children. Most of these children suffer from heart diseases, while other areas we work on are children suffering from cancer and thalassaemia," says Jyoti.
He states that the foundation gets cases from several orphanages and has a tie-up with hospitals such as Max Super-Specialty Hospital, Fortis, the Indian Institute of Spinal Injuries, AIIMS, and Escorts. "Also, last year, we treated 146 kids, but now we have treated over 290 children," he says.
The event sold out 500 tickets and was attended by people from Chandigarh, Delhi, Sri Lanka and Switzerland. "We drove all the way from Delhi to Kasauli on bikes and the event only seems to be getting better by the hour," say a bunch of bikers, including Neha Chandokh, Parakram Hazarika, Prankur Rana, and Pawan Jaiswal from Delhi.
While the festival featured splendid performances by Bollywood playback singer Shilpa Rao, Pink Floyd and Doors cover songs by Mihir Joshi and classical fusion by Fazal Qurashi, Ravi Chary and Ravi Iyer, it was attended by over 400 people.
"We are performing in Kasauli for the first time. In Mizoram, we deal with a lot of censorship due to religion and language, it's quite nice to see an open-minded crowd here," says Joseph Dinji, vocalist of the pop rock band, Frisky Pints.
"I have come here for the music and mountains. I find the place friendly and it's beautiful too," says Celine Smith, manager of the band Massive Vibe. Also, Smiti Golyan a poet from Delhi, says, "I loved the table recital by Ustaad Fazal Qureshi. I loved the sunset here."
The second day of the festival will feature performances by Kanchan Daniel and the Beards, The Local Train, Massive Vibe and Lesle Lewis.
Top Stories