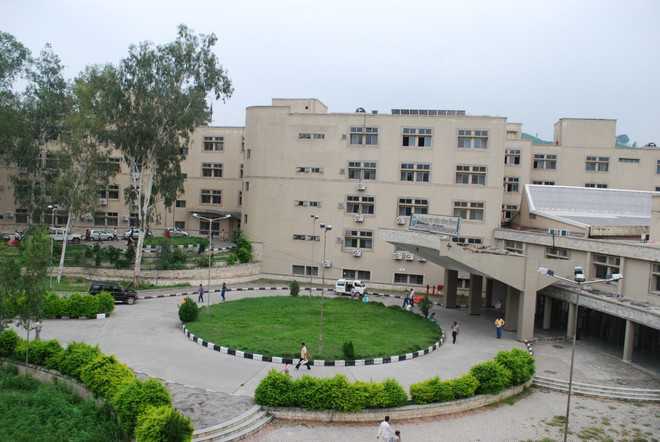 Ravinder Sood
Palampur, October 26
Students of the Radio Diagnosis Department in Tanda medical college have been moving from pillar to post for the past four years as their degrees have not been recognised by the Medical Council of India.
The career of 14 postgraduate doctors, who have got degrees or studying in the department in Tanda medical college, is at stake since the management of the college has failed to rectify the shortcomings pointed out in the infrastructure of the department.
The information revealed that since the beginning of the MD radio diagnosis courses in 2011, 14 candidates got admission.
Out of these, two batches of the sessions 2011-2014 and 2012-2015 comprising five candidates have completed their MD in radio diagnosis and also been awarded degrees.
But because of certain shortcomings in the installation of equipment and the faculty, the MCI refused to grant recognition to the department.
However, the Health Department and medical college authorities remained non-serious and even after the expiry of four years, shortcomings were not removed. Therefore, the MCI failed to grant recognition to the department.
Despite this, the college is still continuing with the admissions to the course which now stands derecognised. Surprisingly the medical college has further increased the number of seats from two to three.
It is also revealed that the state government has failed to take adequate steps to address the objections pointed out by the MCI and on the contrary, the faculty has become understaffed as the teachers were transferred to other medical colleges.
Many students, who opted for the MD radio diagnosis course at TMC after clearing competitive examinations, are a harassed lot till their degrees are recognised by the MCI. They are ineligible to apply for further studies (super-specialisation) or find jobs at other places in the country.
A spokesman of Rajendra Parsad Medical College said the principal had again taken up the matter with the MCI. The shortcomings in the department were being rectified. The MCI has agreed to conduct an inspection of the Radio Diagnosis Department soon.
Top Stories