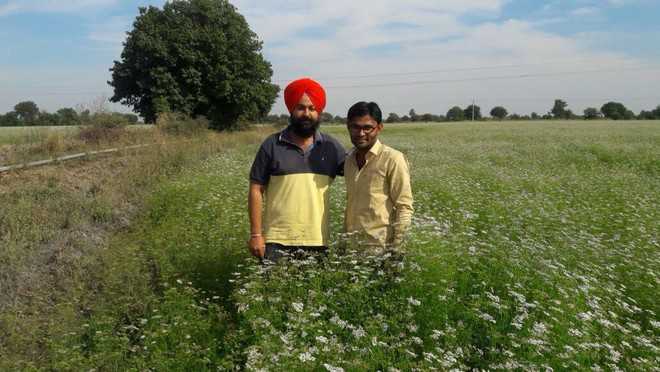 Jupinderjit Singh
Tribune News Service
Chandigarh, April 17
Alambir Singh Randhawa (62), a resident of Chandigarh and owner of 160 acres in Sagar district of the drought-hit Madhya Pradesh, had never seen the Betwa river in the region bone dry. The river-fed irrigation system of the state had failed.
With no proper rain since August 2015, he along with other farmers was staring at another season of loss but playing true to the indomitable spirit of a Punjabi, he and his son Pritpal Singh Randhawa have just shown how to fight the rain-starved land by switching to a crop needing less water. They were the only one in Sagar and the adjoining district to opt for the crop in December itself. They harvested the crop last week.
They sowed coriander in 120 acres and made sufficient profit against a loss of at least 50 per cent of wheat and pulses suffered by other farmers. Against an input cost of Rs 7,000-8,000 per acre, the crop has returned them up to Rs 10,000 per quintal. Each acre harvested up to five quintals of the crop.
In contrast, the wheat required inputs of between Rs 12,000 to 15,000 per acre and the returns were negligible. Most of the farmers even lost their crop. The experiment to try soyabean also failed.
Pritpal Singh Randhawa, 27, told The Tribune from his Chandigarh house that though they managed to sow the crop in time and while several other farmers, eager to emulate them, are making a beeline to their farms, raising a crop was an everyday struggle in the parched land.
Like hundreds of Punjab farmers, who were invited or went to central India besides Gujarat to 'tame' the stubborn barren lands, Rachpal Singh Randhawa, the great great grandfather of Pritpal, bought land in five villages in 1912 in the region. By 1930, his fields were producing such grains and pulses that the then British government awarded him the Best Progressive Farmer in that year.
Pritpal, who is a fifth generation farmer of the family, said Rachpal was the first to install a water pump in the region. Äfter so many decades, his family is the first in the region to have dug 15 wells in one season to get underground water.
"You can imagine that such was the need of water that we had to dig 15 wells to draw water from the tricky underground streams in one season. Earlier, we were drawing water from the Betwa and the Bani river through underground pipes. The last well was dug a decade ago or so. Wells are the last resort as unlike Punjab, underground water is not found everywhere. Water flows in streams in such a way that if you find water at one spot, you cannot get any drop from another bore three feet away," explained Pritpal.
Using a local hydrologist, who charged Rs 1,000 for identifying per well, they dug up 15 spots out of which 13 bore water, "Finding water in such a good ratio is considered nothing less than a miracle in MP," he said.
Top News
Congress has 108 MLAs in 200-member Assembly, of which 82 lo...
Rajasthan is one of the only two states where Congress is in...
'No hand in crisis but doors not closed for Sachin Pilot', s...
The water flow above 2.5 lakh cusecs is considered high floo...
IFS officer accused of taking illicit money in lieu of passi...