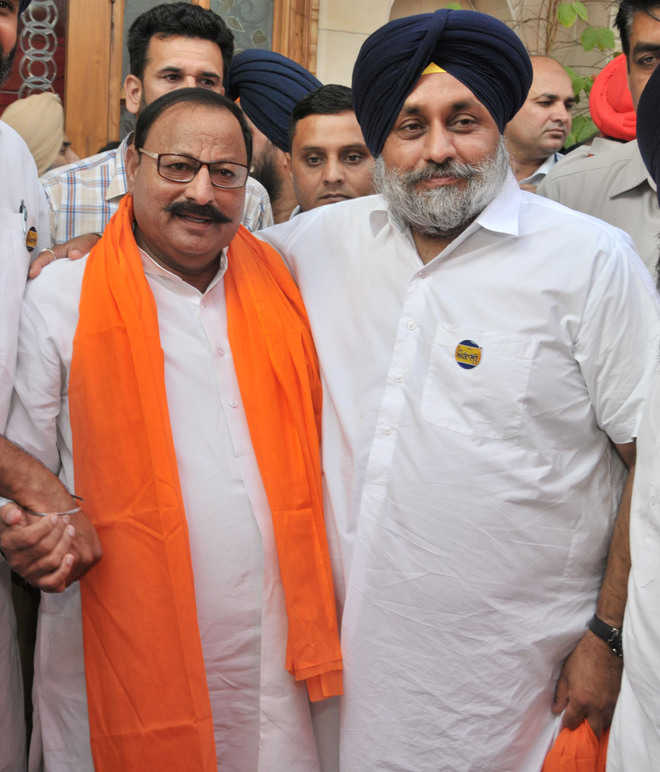 Tribune News Service
Jalandhar, October 24
Reacting to the industry manifesto released by AAP in Ludhiana yesterday, Deputy Chief Minister Sukhbir Badal today hit out at party's national convener Arvind Kejriwal, calling him the "biggest stupid" for promising value-added tax (VAT) reduction when it is set to be abolished in the next three months.
"I have not seen a bigger stupid than Kejriwal, who does not even know that VAT is set to be abolished and replaced by Goods and Services Tax (GST) which will be uniform across India. He is also promising cheaper power whereas it is nearly 50 per cent costlier in Delhi. The Delhi CM should first make it cheaper in Delhi," said Sukhbir at the house of Dera Ballan point person Seth Satpal Mal, who joined the SAD today.
Reacting to Sukhbir's statement, AAP leader Kanwar Sandhu, said, "GST is expected to come in April. But it may not even come."
Claims more Cong leaders to join Akali Dal
Terming the joining of Satpal Mal as a "surgical strike by the Akali Dal on the Congress," Sukhbir said more Congress leaders were set to join his party in the coming days.
'No politics on dera'
Dera Sachkhand Ballan issued a press release today, asking political leaders and parties to refrain from using the dera's name in the election-related developments.
Top Stories