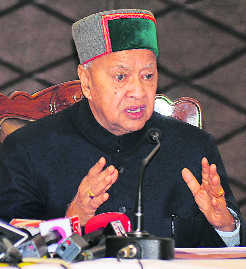 Lalit Mohan
Tribune News Service
Sulah (Dharamsala), January 12
Chief Minister Virbhadra Singh today laid the foundation stone of the Kangehan-Thambu lift drinking water supply scheme to be constructed at a cost of Rs37.55 crore at Sulah in Kangra district.
This drinking water supply scheme will benefit over 80,000 people of Sulah and Jaisinghpur constituencies. He also laid the stones of the building of the police post and the residential complex at Thural to be constructed at Rs 2.63 crore and a bridge over the Neugal Khad on the Thural-Chalah road to be constructed at a cost of Rs 94.5 crore.
The CM also announced the upgrade of Balota health sub-centre in Sulah to primary health centre. He upgraded Punnar and Saloh high schools to senior secondary schools, besides upgrading Government Middle Schools, Arla and Bhatoo, to high schools.
Virbhadra said he would also provide budget for the construction of Chandad-Dhatti and Bhaddal Devi-Saloh roads. The government would also provide financial assistance for the construction of overbridges at Paror and Thakurdwara over railway lines in Sulah, he said.
The CM also inspected the additional block being constructed in the complex of the Community Health Centre, Thural, and also enquired about the well being of patients. He directed PWD officers to complete the work within time and ensure quality work in the ongoing construction.
Addressing at public meeting at Bhedu Mahadev, he said the Kangehan-Thambu water supply scheme was the biggest scheme of the Sulah constituency which would augment the existing drinking water supply schemes of the area.
The Chief Minister said the state government had opened schools and colleges in rural and remote areas to provide educational facilities to the students, especially girls near their homes. The CM said the government had accorded priority to education and health and there was no paucity of funds.
Virbhadra expressed his gratitude for giving him an opportunity to serve as the Chief Minister for the sixth time. Chief Parliamentary Secretary and local MLA Jagjivan Pal welcomed the Chief Minister. He demanded Rs1.5 crore for the construction of the Chandar-Dhatti road, Rs 2 crore for Bhadal Devi Saloh, Rs 4.5 crore for an overbridge over the Paror railway line and 2.5 crore for an overbridge over the Thakurdwara railway line.
He also demanded the upgrade of four schools of his area. Minister for Town and Country Planning Sudhir Sharma, MLAs Sanjay Rattan and Pawan Kajal, Chairman, OBC Finance and Development Corporation, Chander Kumar, Vice-Chairman, Forest Development Corporation, Kewal Singh Pathania were among prominent persons were present.
Top News
Had complained to PM Modi about the activities of Brij Bhush...
Section 124A of the Indian Penal Code dealing with sedition ...
The postings and transfers of the officers have been made on...
Singh, in a Facebook post, said he has postponed the 'Jan Ch...
The representatives of various khaps and farmers' outfits re...