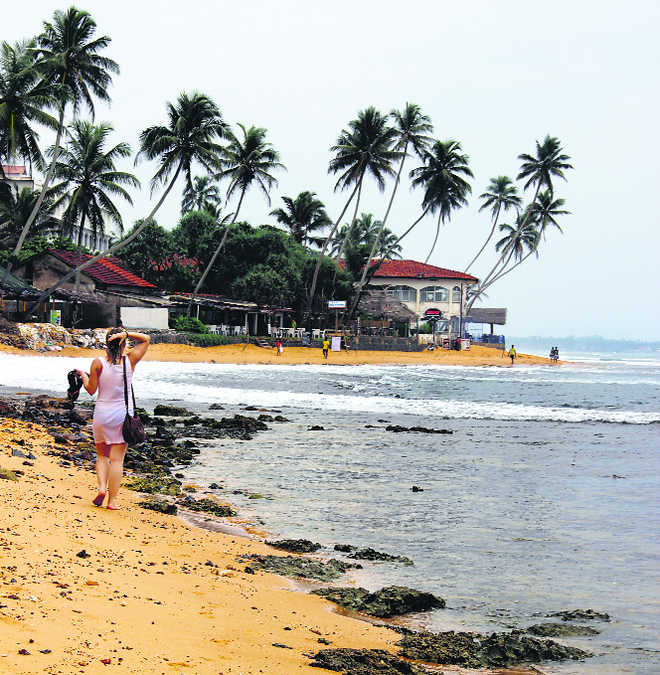 Ambika Gupta
For a long time Sri Lanka was a decidedly unglamorous destination; it was too close, too familiar and far too engaged in civil war to encourage Indians to let their hair down. And frankly, Sri Lanka didn't have the same ring as Singapore when it popped up in casual conversation or a Facebook feed. But all that has changed with the teardrop island emerging as an international holiday hotspot.
The west coast south of Colombo is a string of picture-postcard vistas. This tropical paradise will knock your socks off with its balmy delights and it's one of the few destinations, which makes the Indian rupee look good. Sri Lanka has quite a few surprises for the Indian visitor who blithely strolls in — the colonial history is as rich and varied as India; Burghers don't mean burgers with an extra h, but are actually an ethnic group; and the exchange rate is a clean half! One can trail the coastal strip from Colombo down to the whale-watching hub of Mirissa — collecting flaming sunsets, nodding palms and powder-white sands.
A Colombo staple for every visitor is Mark Forbes' Old Colombo Walkabout. Mark makes centuries-old plaques, ancient shops/supermarkets, historical figures and even boring banks spring to life. The party troops in old buildings, peering at old-fashioned fire alarms, examining medieval coins and sampling street food.
On your Sri Lanka trip, be sure to travel very, very light with lots of empty baggage space and carry extra shopping bags. The House of Fashion is a multi-brand shopping outlet where you can lay your hands on high-end designer labels at throwaway prices. Another iconic shopping destination is Odel — Sri Lanka's most recognisable brand in the global fashion world. The eponymous designer started her clothing line in the back of a van and now owns swish stores across the country. The flagship store in Colombo is a riotous clamour of clothes, home accessories, stuffed toys, cupcakes, et al.
A famous Colombo institution is the Ministry of Crab restaurant in the atmospheric Dutch Hospital precincts. If you think the name is pretentious, wait till you see the constitution-themed menu of this popular restaurant. Dining here, with pre-booking of course, is quite expensive but it's a worthy treat for a day well spent.
The high-speed Southern Expressway connects the bustling port of Colombo to the peaceful lagoons of Bentota. These spill over into the activity-packed beach of Hakkiwadu, which in turn leads to Galle's rich colonial heritage and finally to Mirissa, which is a port of call for the biggest mammals of the open seas, all in less than six hours. The cinnamon plantations of Bentota infuse the air with a spicy aroma, which wafts over the Bentota lagoon. It's utterly rejuvenating to take a lazy cruise on the lagoon alongside monitor lizards skimming the water surface and birdsong echoing in the surrounding mangrove forests. Get an au naturel pedicure midway in the lagoon: schools of bright orange fish in net enclosures nibble at your feet.
At the cinnamon plantations, you can purchase vials of fresh cinnamon oil and bundles of fragrant cinnamon sticks as keepsakes.
If you start to get restive, head southwards, along the coast for an hour and you'll reach Hikkaduwa. From rock-pools to sandcastles, glass-bottom boats for watching corals, jet-skis and colourful surfboards bobbing on the waves, it's a riot of fun activities!
The next port of call is Galle — a slice of quintessential Europe in the Indian subcontinent. Brightly coloured bougainvillea spill out of flowerpots, wrought-iron lampposts line the cobble-stoned streets, doors have heavy knockers in wonderful shapes and windows have wooden shutters. Portuguese and Dutch colonialists built this fortified city between the 16th and 19th centuries, which is now a UNESCO World Heritage Site. The colonial buildings have been excellently restored and now house fashionable boutiques, charming cafes, posh hotels, home stays and eateries for all budget sizes.
From here, it's a short drive to Mirissa, where you can enlist for a whale-watching tour and embark on the open seas to see the gentle giants. Sightings are most common in the winter months, so check beforehand.
On the return journey, again follow the Southern Expressway, sailing along the golden coast with its glittering waters and shimmering sands.
Fact File
Getting there
Fly in to Colombo's Bandaranaike International Airport. Colombo is well-connected by regular flights to Delhi, Mumbai and Chennai. The Southern Expressway connects the entire coastal stretch from Colombo to Mirissa. There is a toll tax on this route, but it's worth the time you will save.
When to go
The best time to visit is during winter — from December to April, when you can spend whole days out on the beach.
What to do
Go on a whale watching expedition in the Indian Ocean. Boat tours are organised in Mirissa, the southernmost tip of the island, and sightings are fairly common.
Top News
Congress is in power in Rajasthan and Chhattisgarh, BJP is r...
Counting of votes under way for 199 seats
Counting of votes in elections to 90-member Assembly began a...
Counting of votes in elections to 119-member Assembly starte...