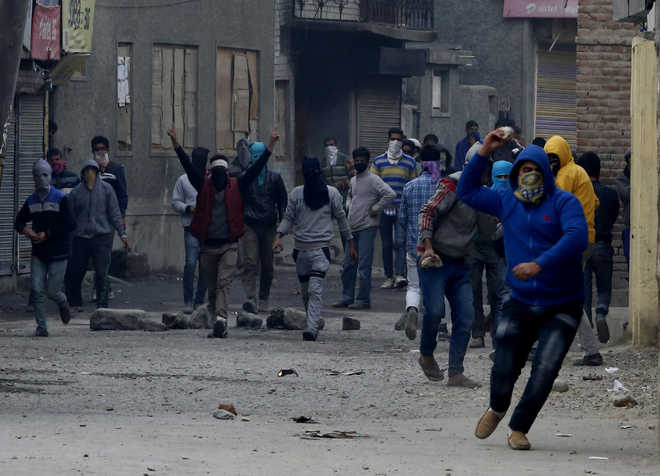 R Sedhuraman
Legal Correspondent
New Delhi, December 14
The Supreme Court today issued a notice to the Centre and the Jammu and Kashmir Government on a plea for banning the use of pellet guns by the security forces to deal with violence in the state.
A Bench headed by Chief Justice TS Thakur also asked the Centre to file the expert committee report on pellet guns. The Bench was hearing an appeal by the J&K High Court Bar Association, Srinagar, challenging the September 22 judgment of the High Court rejecting the association's PIL plea for ban.
Appearing for the petitioner, counsel Manzoor Ahmad pleaded that alternatively the Magistrate should be present at the trouble spot when the security forces resort to such action.
Arguing for the Centre, Attorney General Mukul Rohatgi said making the presence of the Magistrate mandatory was not feasible. Under the standard operating procedure (SOP), the order could be issued by the Magistrate or the senior most police officer.
The state's counsel Sunil Fernandes said the security forces were following the SOP and the Centre had classified pellet guns as a non-lethal weapon.
The High Court had dismissed the PIL, citing the expert committee set up by the Centre to explore the alternatives to pellet guns. The appellant pleaded that the High Court had passed the order without waiting for the committee's report.
The nature and extent of the force required to be used at the relevant point of time or situation would have to be decided by the persons in charge of the place where the attack was happening, the High Court had held. The apex court slated the next hearing for January 30.
Top News
7 others, including Ahmed's brother Khalid Azim alias Ashraf...
Writes to Mohit Rajan, Deputy Secretary in the MS Branch of ...
Amritpal's counsel on the other hand contended that he was i...
Sukhwinder Singh ran a finance business in Manila for the pa...
During the intervening night of March 27-28, BSF troops dete...