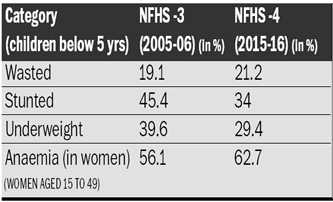 Sushil Manav
Tribune News Service
Chandigarh, April 10
Touted as one the most developed states of the country, Haryana seems to have performed badly as far as key health indicators for the state shown in the National Family Health Survey -4 (NFHS-4) are concerned.
The factsheet for Haryana as provided in the NFHS-4 shows that the state has plummeted further in several key health indicators such as child health, incidence of anaemia among women and obesity among men, though it has also shown some improvement in certain others in the past ten years.
As per the NFHS -4 (2015-16) released recently, 21.2 per cent children under 5 years of age in Haryana were found wasted (low weight for height), while 9 per cent were found severely wasted.
In NFHS -3 (2005-06), the percentage of wasted children was 19.1 percent and that of severely wasted 5 per cent.
In contrast, percentage of stunted children (height for age) has come down from 45.4 (NFHS-3) to 34 (NFHS-4).
Similarly, the percentage of underweight (weight for age) has also come down from 39.6 to 29.4 during the past 10 years.
As far as infant mortality rate (IMR) is concerned, the state has shown some improvement in the past ten years, as death of 33 infants per 1000 live births were reported in 2015-16 against 41 in 2005-06.
The incidence of anaemia (blood haemoglobin less than 12 gram) among non-pregnant women aged 15 to 49 has also increased from 55.2 percent in NFHS-3 (2005-06) to 63.1 per cent in NFHS-4 (2015-16).
In pregnant women, the incidence of anaemia (Hb less than 11 gram) has gone down from 69.7 per cent (NFHS -3) to 55 per cent (NFHS-4).
In all women aged 15 to 49, the incidence of anaemia has increased from 56.1 to 62.7 per cent.
Even among men aged 15 to 49, the incidence of anaemia (Hb less than 13 gram) has increased from 19.2 per cent to 20.9 per cent in the past ten years.
The obesity among both men and women has increased in the past ten years in Haryana.
Against 17.4 per cent women who were found obese in 2005-06, the figure went up to 21 percent in 2015-16.
Similarly, the obesity among men increased from 10.8 per cent (NFHS-3) to 20 per cent (NFHS-4).
The NFHS-4 fieldwork for Haryana was conducted from 13 February 2015 to 24 June 2015 by Society for Promotion of Youth & Masses (SPYM) and gathered information from 17,332 households, 21,652 women and 3,380 men.
Top News
Had complained to PM Modi about the activities of Brij Bhush...
Said agitation will be intensified by holding panchayats acr...
'We are distressed and disturbed at the unseemly visuals of ...
Section 124A of the Indian Penal Code dealing with sedition ...
The postings and transfers of the officers have been made on...