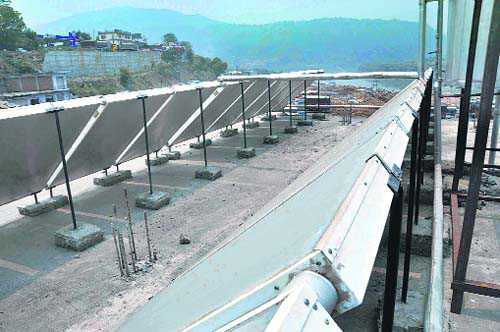 Pratibha Chauhan
Tribune News Service
Shimla, October 18
With the HP State Electricity Regulation Commission (HPSERC) fixing the tariff for solar power, the state government has decided to undertake a survey to identify the specific sites and the exact potential the state has as several investors, including a South African company, have expressed keenness to set up solar power plants in Himachal.
A Cape Town-based South African company "Solar Capital" has sent in its proposal to the Department of Power as they are keen to set up solar plants at various sites, including Spiti.
Similar desire has been expressed by a number of other companies who are in touch with the state government. Surya Ushma Private limited in collaboration with the South Africa group has proposed to invest in solar energy of around 100 MW initially and are also keen in manufacturing solar panels.
It is for the first time that the HPSERC too has set up a tariff of Rs 5 per unit for less than one MW solar plant and Rs 7.15 per unit for more than 5 MW plant. So far there is no solar power plant in the state. Recently, Chief Minister Virbhadra Singh laid the foundation stone for the setting up of a 2.5 MW plant in the cold desert of Spiti to be executed by Himurja.
"The HP State Electricity Board is committed to produce at least 0.25 per cent of Himachal's total power capacity as renewable energy from solar and wind power which works out to be at least 25 MW," said Tarun Sridhar, Additional Chief Secretary, Power, Personnel and Revenue. He confirmed that many investors were keen to set up solar plants in the state and the HPSEB Ltd and Himurja would undertake a survey to identify the suitable sites.
As per the norms set by the Department of Non-Conventional Energy the year 2019-20, Himachal will have to generate at least 100 MW from renewable sources of energy. Even though the tribal areas of Spiti and parts of Kinnaur have high potential for generation of solar and wind energy, the biggest impediment is the problem of evacuation this power. Unless and until this area is not linked through transmission lines to the other existing lines, there would be major problem in evacuation.
The problem of evacuation another issue which could pose a problem is the requirement of at least two to three acres of land being needed for generating one MW of solar power. With land being scarce this could also be a major issue.
Top News
No immediate report of any loss of life or property; People ...
Earlier, Amritpal was caught in CCTV footage at a toll plaza...
Police have arrested 154 people so far but Amritpal is still...
Stringent National Security Act has been invoked against Amr...
In his first reaction to the police action, the CM releases ...