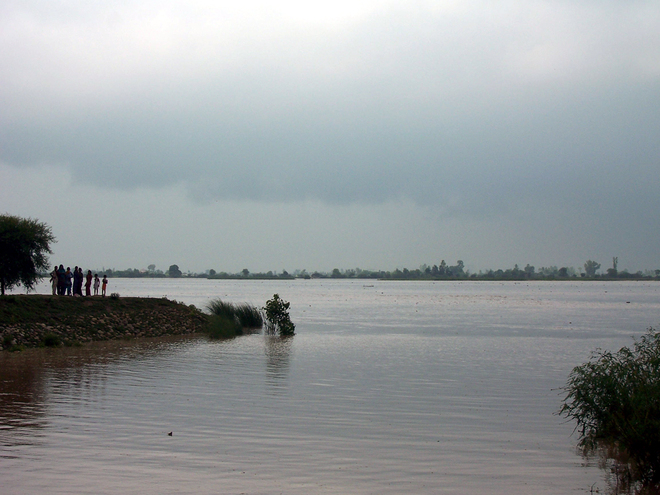 Tribune News Service
Moga, July 20
The rise in water level in the Sutlej has submerged crops on over 2,000 acres in Moga district.
Heavy rainfall was reported in the catchment areas in the Ludhiana and Ropar districts in Punjab and in Himachal Pradesh during the past few days.
Agriculture Development Officer Dr Jaswinder Singh Brar said that crops on 630 acres in Sanghera village, 630 acres in Boghewal village, 98 acres in Melak, 120 acres in Bandala, 700 acres in Mandar, 100 acres in Bhaini and 120 acres in Madarpur have been submerged. A team of the Agriculture Department has rushed to the spot to assess the situation.
Sanghera village in Dharamkot sub-division, having a population of 600, is surrounded by flood water. Almost the entire crop of paddy, maize and fodder in the village has been submerged, said the local people.
Even while the water has not yet entered the residential area of the village, life has almost come to a standstill. Children have not been able to go to school for the past couple of days.
Village Sarpanch Saroop Singh told mediapersons that he had arranged a boat to ferry essential commodities and for emergency purposes. No official of the state government or the district administration has visited the village so far.
Sanjiv Kumar Gupta, Executive Engineer of the drainage wing of the Irrigation Department, said that water had increased considerably in the last week. But it has started receding and there was no threat of a flood.