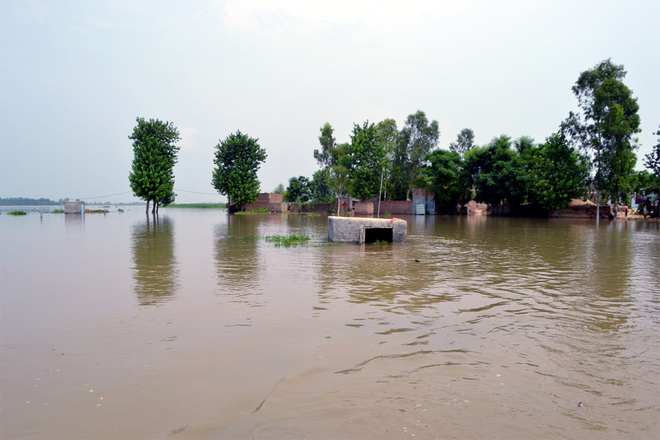 Kulwinder Sandhu
Tribune News Service
Moga, August 11
Water level in the Sutlej has increased to an alarming situation in the Moga district due to heavy rainfall in the catchments areas. People living in the river belt have started a night vigil as a precautionary measure.
Water has entered many houses of the Sanghera village and other settlements located along the embankments of the river. More than 3,000 acres of paddy, maize and other crops have been submerged under water.
Local people said the river water had been rising from the past 24 hours. Besides heavy rainfall, water is being added to the Sutlej from seasonal rivulets Siswan, Budhki, Sagrao, Budha Nullah and the Jasowal drain downstream of the Ropar headworks.
The irrigation department has claimed that the 'dhusi bundh' had been strengthened in the last few years and there was no possible threat to it at the moment.
The district administration has asked officials of the concerned departments to keep a regular eye on the situation. Officials of Agriculture, Irrigation, Health and other departments concerned have been asked to regularly visiti the 'dhusi bandh' and interact with people.
Talking to The Tribune, Saroop Singh, sarpanch of Sanghera village, said they were facing problems related to drinking water and fodder for the cattle. "The administration has provided only one boat, which is not sufficient to meet any emergency situation," he said.
He demanded that the government should construct a ring road with a height of 7 to 8 feet around the village, which would work as a 'bundh' and keep the river water from entering residential areas.
Jangir Singh Nambardar of Madarpur village said the availability of green fodder for the cattle had become a major problem for those living in the embankment areas because the fodder plants had got submerged in water.
Agriculture Minister Tota Singh, who is also the MLA of this area, said he had asked Health Department officials to pay regular visits to the affected villages and monitor the health of people so as to prevent the spread of diseases. "We will provide free medicines to people," he said.
Chief Agriculture Officer Dr Jarnail Singh, Agriculture Officer Dr Jaswinder Singh Brar and other agro-scientists have advised people living in the embankment areas to change their cropping pattern to avoid financial losses during waterlogging. He said the cultivation of sugarcane or poplar trees was the best option to escape flood losses.
Top News
Says 2004-2014 was a lost decade but 2030 will be India's de...
UPI soon for all in-bound travellers, coin-vending machines:...
He said the prime minister did not answer the questions he h...
All promotional cases to be kept outside the purview of the ...
Three-member collegium also recommends appointment CJs of hi...