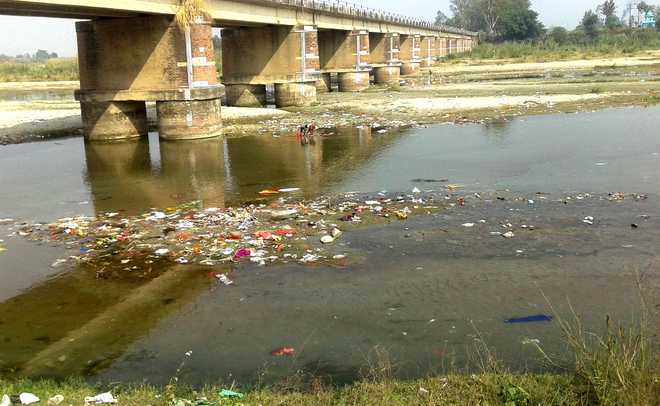 Rajesh Sharma
Una, November 12
The Swan, along with its 73 tributaries that run through the length and breadth of Una district, is gradually being converted into water channels to drain waste generated by human beings residing in all 234 panchayats and urban areas of the district.
The reason being that while none of the panchayats have a working waste management plan, even the urban bodies are dumping their waste near the open space along the Swan river banks.
According to national estimates, every Indian individual generates about 800 gram, of waste per day that includes degradable and non-degradable waste material. Going by the 5 lakh human population in Una district, about 400 metric tonnes of solid waste is generated every day.
The data available with the District Rural Development Authority (DRDA) reveals that out of 234 panchayats in the district, solid and liquid waste management work has recently been completed in only two villages, namely Ajauli in Una block and Gondpur Bulla in Haroli block. In all other panchayats, no waste management plan is in place and consequently, locals conveniently dump the daily waste into hill slopes or drains. Even in Ajauli and Gondpur Bulla, solid waste management works have yet to begin.
During monsoons, the non-degradable waste material gradually meanders its way into the Swan through the network of natural drains. Since the process has been going on for decades, not only the Swan, but even its tributaries are littered with waste that includes polybags, textiles, cans, rubber material, packing material, broken plastics and thermocol disposables. Not to mention that these materials have been adversely affecting the local ecology, the flora and fauna.
As regards the urban areas, a sum of Rs 1 crore had been spent for the construction of solid waste management projects in Una and Santoshgarh.
However, both the buildings are lying unutilised and the municipal waste is being dumped along the Swan banks in Rampur village and in Santoshgarh nagar panchayat.
The Swan, that finds mention in the Ancient Indian scriptures as Sombhadra river, has preserved and sustained human civilisation along its banks for ages. The woes and sufferings of the life-giving river will overshadow the fanfare with which the three-day state-level Sombhadra Mahotsav will get under way at the district headquarters on November 11 in the presence of Chief Minister Virbhadra Singh.