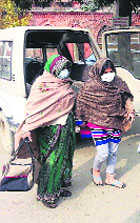 Sushil Manav/ Bijendra Ahlawat
Tribune News Service
Sirsa / Faridabad, January 28
With 45 positive cases and seven deaths in the state so far, swine flu, a communicable disease caused by H1N1 virus, has started giving sleepless nights to the authorities in the health department in Haryana.
The disease remained virtually dormant in the state last year. However, fresh cases are being reported almost every day from different parts of the state.
Three new cases were reported in the state today. Two cases were detected in Fatehabad yesterday. In contrast, only five positive cases of swine flu were reported in Haryana in the entire season last year and one patient had died.
Dr Kamla Singh, Additional Director General of Health Services (ADGHS), Haryana, however, said there was no cause for worry and the situation was under control. Health authorities were keeping a close watch on the situation. "We are trying to make public aware through various initiatives and the need to report to hospitals if somebody was found with symptoms which include high fever and difficulty in breathing," she said.
She said deaths have been reported from Gurgaon, Faridabad, Hisar, Jind, Karnal, Rohtak and Fatehabad districts adding that there was no clarity over the death of one patient in Faridabad as the victim was also suffering from heart ailment and diabetes. Dr Ram Bhagat, Deputy Civil Surgeon, said 10 positive cases have surfaced in Faridabad. The disease had assumed alarming proportions in the year 2009 when over 1,400 persons had reported positive with H1N1 infection in the state and as many as 38 persons had died due to the disease.
The health authorities in Hisar have confirmed seven cases of swine flu. Nodal medical officer Dr Sushil Garg informed that 50 samples have been collected in the district for swine flu testing.
"Seven cases have tested positive for swine flu. We are awaiting the outcome of six more samples which have been sent for testing", he said adding that five of the seven confirmed cases had been treated while two are undergoing treatment. They are out of danger. The disease is associated with sudden rise in temperature, cough and sore throat and other related symptoms.
Owing to relatively higher percentage of mortality rate, several guidelines have been issued while dealing with the suspected cases of H1N1 virus.
Symptoms: Fever, cough, sore throat, runny or stuffy nose, difficulty in breathing, body aches, headache, fatigue, chill, diarrhea, vomiting, blood in sputum.
Those at higher risk: People with certain chronic medical conditions, adults (65 years and above), children below five years and pregnant women.
Treatment: HINI is treated with Tamiflu which is not sold openly as its excessive use can make the virus resistant to the drug and is administered only when medical test report is found positive.
DO's
Cover mouth and nose with a handkerchief while coughing or sneezing
Wash hands often with soap and water or use an alcohol-based hand gel
Avoid touching your eyes, nose or mouth
Avoid crowded places
Stay at more than an arm's length from persons afflicted with flu
Get plenty of sleep
Drink plenty of water and eat nutritious food
DON'Ts
Shake hands or hug while greeting
Spit in public
Take medicines without consulting a physician
Top News
Major infrastructure damage, road to vital North Sikkim lead...
Says poor largest segment in country, deserve first right on...
The Canadian allegations regarding India's involvement in th...