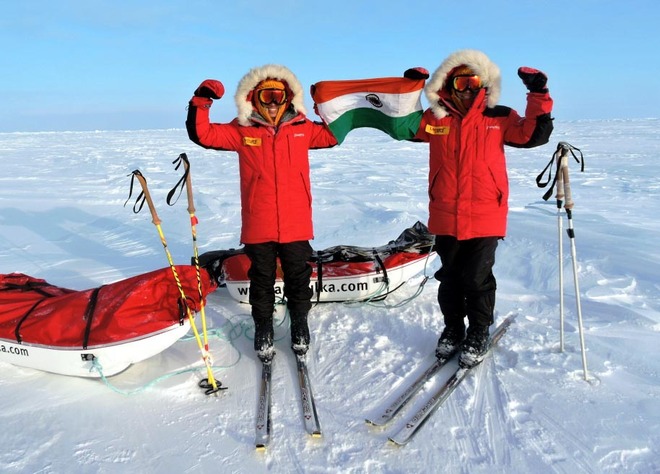 Tribune News Service
Dehradun, April 23
Twin mountaineer sisters from Uttarakhand Nungshi and Tashi Malik have succeeded in hoisting the Tricolour on the North Pole, thereby becoming the first South Asians to scale both the North and South Poles on skis and winning the Explorers Grand Slam title.
Their proud father, VS Malik, said," Nungshi and Tashi left for the North Pole on April 15 and achieved the summit on April 21. Temperatures reached -30°C. They covered 116 km in seven days."
Nungshi and Tashi are the first siblings and twins to climb Seven Summits, the tallest mountain peaks in the world. So far, only 41 persons, including eight women, in the world had achieved the title.
Malik said the motive of their expedition was to spread the message of 'Save girl child'.
In love with mountaineering
The twins decided to attend the basic mountaineering course at the Uttarkashi-based Nehru Institute of Mountaineering (NIM) in 2009. After that, they fell in love with mountaineering and have completed other courses-advance, search and rescue and mountaineering instructor-from NIM.
Explorers Grand Slam
Explorers Grand Slam is an expedition in which a mountaineer has to complete seven summits (Mt Everest, Mt Kilimanjaro, Mt Elbrus, Mt Aconcagua, Mt Carstenz Pyramid, Mt Vinson Massif and Mt McKinley) and to ski around both South and North Poles.