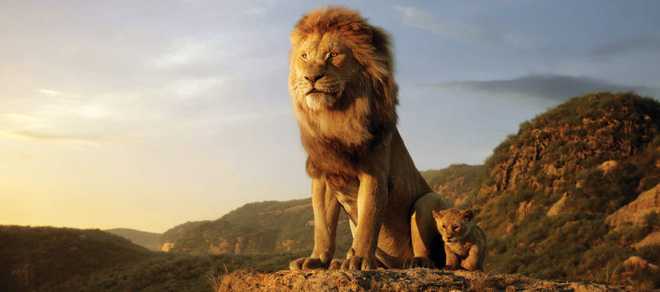 Gautaman Bhaskaran
Modern techniques allowed Favreau to walk around the virtual set, setting up shots as if he were standing next to Simba or Scar in Africa
The most delightful, the most endearing moments in Walt Disney's reboot of the 1994 classic, The Lion King, appear when cub Simba is around, and he is there quite a while in all his wide-eyed innocence. And this includes being fooled by his wicked uncle, Scar, who says that the little cub caused his father, Mufasa's, death. As the just and noble king of all he surveys, Mufasa leaves behind Simba as his sole heir, but the baby lion runs away, wracked by guilt.
The Lion King, helmed by Jon Favreau, is, unlike its earlier version, a live-action adventure set in the jungles of Africa, and this was achieved through cutting-edge technology that makes the animals look real. The film does not look like animation, far from it, and there is a virtual documentary feel about it. One that we watch so often on Animal Planet or the BBC.
Modern techniques allowed Favreau to walk around the virtual set, setting up shots as if he were standing next to Simba or Scar in Africa. Actors like Donald Glover (lending his voice to Simba) and Beyonce (voicing Nala, Simba's sweetheart) were also asked to stand along to get them to feel the forest in order to achieve the highest degree of authenticity.
Also, the director wanted to ensure a closer connect between viewers and the screen animals. So, he hired an all-star cast, including Beyoncé, Glover, Chiwetel Ejiofor as Scar, and Seth Rogen as Pumbaa, the warthog.
Despite all this, The Lion King can, by no means, be Hatari, the 1962 American outing in the wilds that was directed by Howard Hawks, and starred no less a celebrity than John Wayne. Hatari (which means 'danger' in the Swahili language) had some nail-biting chases with Mount Meru (a dormant volcano) in Tanzania as the backdrop with a group of professional game catchers. These men helped capture wild animals which were then sent to zoos or circuses. The animals here were real, not created through technology, like in the case of The Lion King.
But, now with animals out of bounds for such game or exhibition on the screen — thanks to strict wildlife laws, Disney had to fall back on technology to give us a feel of the forest and its denizens. Favreau does this with marvellous flourish. There are great moments in the movie — the relationship between Mufasa and Simba or the sorrow which overtakes the cub when his father dies.
The idea of rebooting The Lion King came to Favreau on a journey he made to Africa. Fresh from directing The Jungle Book, also a live-action version of an earlier work, he had the confidence to jump into The Lion King terrain. He told the media some days ago: "When I was on the African safari, a warthog ran past our vehicle, and someone in my group began singing "Hakuna Matata" (No Worries), and we saw lions up on the rock. It looks like The Lion King, one of them said. He was referring to the animated version of The Lion King made 25 years ago. This story of The Lion King has become a point of reference, and everybody knows and accepts it". Indeed so.
Cinema captures our imagination like nothing else. You walk into Shimla or Mussoorie or Kodaikanal, your tour guide or cab driver will point at places where, let us say, Love in Simla was shot or Teesri Manzil or a Tamil film. Love in Simla and Teesri Manzil happened long ago, but the memory of the shoots is kept alive by successive generations. It is, therefore, not surprising that people thought of The Lion King on their African outing!
And Favreau's Lion is roaring all right — making millions of dollars in North America and millions more elsewhere, including China.