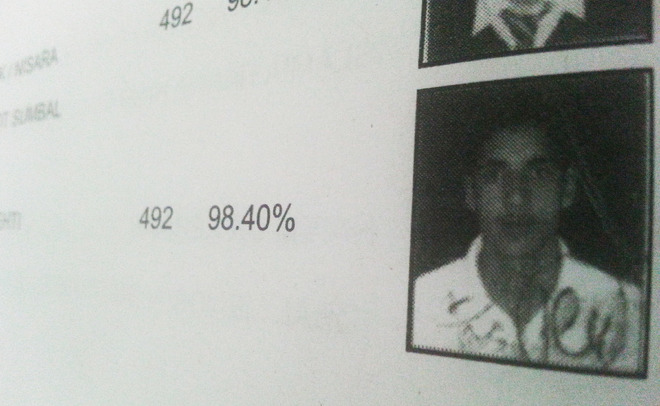 Azhar Qadri
Tribune News Service
Tral (south Kashmir), July 5
A teenager from south Kashmir's Tral sub-district, whose meritorious academic performance and studious attitude earned him the sobriquet of 'Newton', has joined a growing brigade of new-generation militants in the region, his family and police sources have said.
Ishaq Ahmad, 19, joined the militant ranks in March this year after leaving his home on a snowy day on the pretext of submitting a form in a college, his father Mohammad Ibrahim said.
The teenager is believed to have joined a local unit of militants, all of whom are residents of Tral sub-district.
Ishaq's commander, according to police sources, is Burhan Muzaffar Wani, son of a school principal and a young man who has emerged as the poster boy of Kashmir's new militancy.
The Tral sub-district — located close to the Srinagar-Jammu highway in south Kashmir with mountainous forests, streams and sleepy villages — has emerged as the stronghold of militants in the recent years with a steady flow of recruits like Ishaq.
Before becoming a militant, Ishaq was a meritorious student at school, where he was a position holder. Ishaq had scored 98.4 per cent in class X results announced in December 2011. He had secured the ninth position in the Kashmir zone. It was one of the best performances by a student in Tral sub-district, where two girls topped the class X results this year. Ibrahim said he had desired to see his son become a religious scholar and described him as a studious boy, a strict observer of prayers and a thorough reader. "If you see his room, it is filled with books," Ibrahim told The Tribune in an interview at Tral's Laribal village.
Ishaq was preparing for the Common Entrance Test, Ibrahim said, which would have made him eligible to enter a medical college. "I wanted him to become a scholar of Islam. When he was born I had made the niyat (intention) of making him an 'alim' (scholar)," Ibrahim said.
Fewer militants in recent years, who security forces say are more determined in conviction than their predecessor generations, have opted to surrender when their hideouts were surrounded.
Inspector General of Police for the Kashmir zone SJM Gillani said 100 youths had joined the militants in the past 18 months. "This number is 35 this year and a bulk of them are from south Kashmir. Last year, 65 had joined the militants out of which 30-odd were neutralised," Gillani said.
The police said nearly 150 militants — most of them locals — were active in the region with 80 of them active in districts in south Kashmir.
Top News
Police say the deceased — believed to be two families of Ind...
Jail officials say the formalities of the release are being ...
Karan says happy to see father coming out of jail, last 10 m...
Internet connection remains suspended even as the prohibitor...
Will also take part in the ongoing Combined Commanders' Conf...