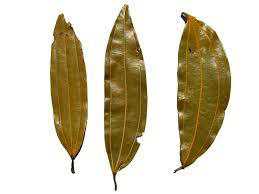 Neena Sharma
Tribune News Service
Dehradun, June 6
Tejpata or Indian bay leaf, which is known to add flavour to dishes and also possesses several medicinal properties, has become the first botanical plant from Uttarakhand to receive the Geographical Indications (GI) tag.
After finding a place in the Geographical Register of India, a GI certificate was issued on May 31 by the Chennai-based office. So far, 261 products have been registered in the registry from the country,
Uttarakhand has also got the GI tag for Basmati rice which it shares the tag with other states, including Haryana, New Delhi, Punjab and Himachal Pradesh.
The GI is a sign used on products that have a specific geographical origin and possesses qualities or a reputation that are due to that origin. In order to function as a GI, a sign must identify a product as originating in a given place. Darjeeling Tea was the first product from the country to receive the GI tag.
Dr BS Negi, Director of National Horticulture Mission, said under the United Nations Development Programme (UNDP) - Global Environment Facility (GEF), conservation of medicinal plants and getting a GI tag figured prominently in the programme.
"For this programme, the Herbal Research and Development Institute (HRDI), based in Gopeshwar, was nominated as the nodal agency for the task," he said.
Tejpata (Botanical name: Cinnamomum tamala Family: Lauraceae ) is grown in all districts of the state barring Udham Singh Nagar and Hardwar districts. It grows mostly in shady places at the height of 1000 metre-2,200 meter.
"In Uttarakhand, more than 10,000 farmers are involved in the production of Tejpata and the annual turnover is 1000 metric tonne," said Dr
Dr VP Bhatt, who was nominated as the officer for the project by the Uttarakhand Government.
A state-level committee was also constituted by the name of the Uttarakhand Tejpata Samiti Gopeshwar.
From the markets of Tanakpur, Haldwani, Ramnagar and Rishikesh, Tejpata reaches the final destination in Delhi and Mumbai. From here, it is also exported.
Tejpata are plucked between December and March. The yield from the tree increases between 10-20 per cent after five years.
Top News
The CBI has registered an FIR in connection with alleged irr...
Says CBI raid reward for good performance
Punjab ministers Harjot Bains and Chetan Jouramajra also sla...
5 kidnappers arrested; wanted to sell the child for Rs 50,00...
Canada is one of the popular destinations for Indian student...