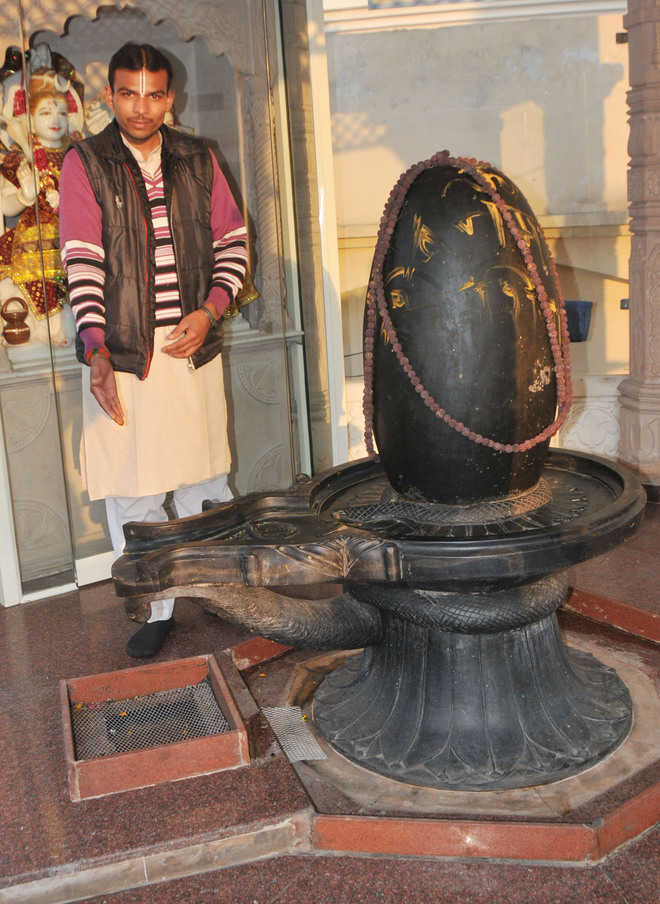 Parveen Arora
Tribune News Service
Karnal, February 10
Aiming at conserving water poured on 'Shivlings', two temples of the city have shown the way how a religious practice can be turned into a scientific method to maintain the water table.
The managements of Lord Shiva temple in NDRI and Sri Ram Mandir in Sector 8 have adopted this unique method to save water in 2009 and 2012, respectively. Earlier, the water used to virtually go down the drain.
The managements of both the temples have drilled a bore of more than 100 feet just near the 'Shivling' and the water offered by the devotees goes down into the bore. Due to this practice, not only does the temple remain clean, but also the vicinity is also not muddied. Experts working in the field of water conservation claimed it to be a unique step.
Dr SK Kamra, Principal Scientist, Central Soil Salinity Research Institute (CSSRI), said that millions of litres water can be saved through this method. He urged others to do adopt this method. This needs to be done all over the country, not just in Karnal, he said.
During the construction of the temple in the institute, the scientists had taken the initiative to save water which would be offered to Lord Shiva as they noticed that the water offered by devotees in temples is completely wasted as it goes into the drain, said Dr. AK Srivastava, Director NDRI. Since the opening of the temple in 2009, about 150 devotees offer water and milk on Monday and on the rest of days the average is about 60 devotees daily, he added.
Jagannath Batra, president of Sri Ram Mandir management, said they have installed filters at the opening of the bore, so the flower and things offered by the devotees do go into the bore, he added. Naresh Taneja, general secretary of the management, said that usually water and milk used to flow out unchecked into open areas near temples leading to unhygienic condition and this method would help to clean the surroundings.
Top Stories