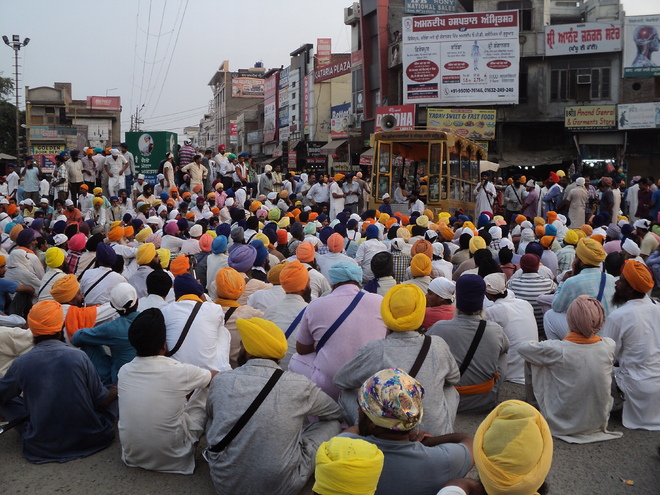 Balwant Garg
Tribune News Service
Kotkapura (Faridkot), October 12
Communal tension gripped Bargari and Kotkapura towns after more than 110 pages of the Guru Granth Sahib were found strewn near a gurdwara in Bargari this morning.
Residents of Bargari spotted the pages when they came to the gurdwara to offer morning prayers. Bargari observed a complete bandh in protest and residents of adjoining villages also joined them when they came to know about the incident.
As members of some religious Sikh organisations reached Bargari, the police stepped up security in the town.
In the evening, protesting against this sacrilegious act, the Sikh organisations and a number of residents of adjoining villages took out a protest march carrying the torn pages of the holy granth.
In Kotkapura, they sat on a dharna on an intersection, blocking way to Bathinda-Amritsar, Ludhiana, Muktsar and Patiala roads.
Heavy police force was deployed in Kotkapura to control the situation. Many senior officers, including DIG Amar Singh Chahal, Ferozepur SSP Hardial Singh Mann, SSP and the Faridkot DC, urged the protesters to end the dharna. However, the protesters denied, saying they would not move until the accused were arrested.
This sacrilegious act has its genesis in the theft of a "bir" of the Guru Granth Sahib from a gurdwara at Burj Jawahar Singh Wala village of Faridkot on June 1, it is believed.
Protesting against the police and the civil administration for their failure in recovering the stolen "bir" and nabbing the accused, religious Sikh groups had staged many dharnas in Faridkot in the past five months.
The police have been put on alert in the adjoining villages to keep a close tab on the situation.
Sukhdev Singh Baath, a SGPC member, was forced to leave by leaders and members of some Sikh organisations when this Akali leader reached the local gurdwara to participate in the meeting.
Raising slogans against him, members of radical Sikh organisations blamed Baath of his failure in performing his religious duty and in prevailing upon the police to recover the stolen "bir".
They alleged that the torn and strewn pages which were found around the gurdwara today were of that holy book that was stolen on June 1 from Gurdwara at Burj Jawahar Singh Wala village.