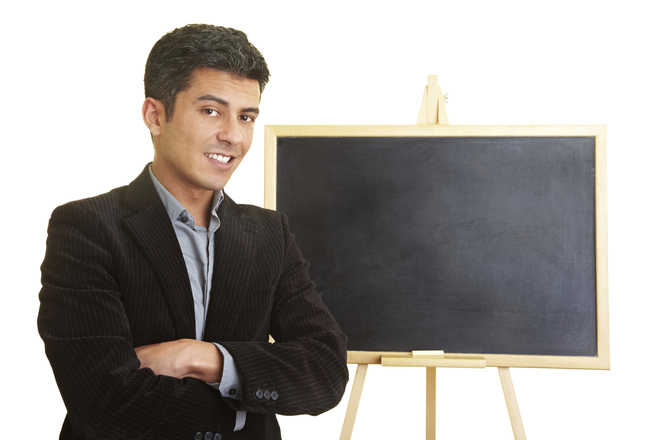 Sumit Peer
The convergence of technology and business has led to a fast pace change in the skill set needs of the employees. In spite of hiring new resources and spending hugely on it one can train the existing employees and help them in their growth process. Training enables professionals to increase their IPR, which can stay even after they move on.
Needs are driven by a dynamic market place that is changing at a fast pace hence, the customer's expectations have created a need for fast track remedy which is personalised and customised as per the situation. There is a need of specialised professionals or corporate trainers to serve the same.
A corporate trainer handles training programmes and works in a business environment to further improve the skills of the employees. Indian corporate training market is large and lucrative. Therefore, Corporate Training is becoming a major career option; specially for growing economies like India (GDP figures in top 5 already). According to The Bureau of Labor Statistics, "Employment of training and development specialists is projected to grow 15 per cent from 2012 to 2022, faster than the average for all occupations."
India has the world's largest youth population which means that we have the biggest workforce. Hence, the need for skill development of workforce is the highest in India which paves the way for a boom in Corporate Training profession. Corporates from around the world have shifted their focus on education, which have opened the doors for Corporate Trainers seeking seamless growth and opportunity at national and international level.
Scope
These days more and more companies are conducting training and induction programmes and are looking out for corporate trainers for the same. Companies require corporate trainers to make their employees learn about the latest tools and technologies. Trainers with the ability to entertain and educate a group of people combined with confidence can excel tremendously in corporate training profession. Corporate trainers can enter from a variety of education paths like teachers, researchers and academicians. People who have the ability to deliver information to others can fit best in this profile. Progressive organisations have felt the need of training their employees on regular basis in order to keep pace with the competitive organisations. Employee's image or presentation has a direct impact on the company's image; so the corporations should focus more on improving the way their employees present themselves to the outside world through training.
— The writer is Founder & CEO, Aurelius Corporate Solutions
Skill set
A professional corporate trainer requires great aptitude to create teaching and learning content in any environment. To deliver a quality lecture within a set time one must have expertise in a particular subject and be familiar with the technology or tools. There are a number of opportunities for corporate trainers in fields like finance, information technology, insurance, health care, hospitality and BPO. Trainers have an open opportunity to join a specialist training firm or work for corporate training firms. Trainers can even work as freelancer, self-employee, independent consultants or a contract employee.
Steps to start a career as a trainer
Starting a career as a corporate trainer requires five important steps:
Decide your training vertical
Corporate trainers have an open opportunity to work in a number of fields, so it is of utmost importance to first select a field that interests you the most. One should choose the field considering his/her skills and expertise. Being adaptable can be an advantage but showcasing a clear expertise in a particular field will demonstrate the credibility of the trainer. Some of the most common fields where corporate trainers are hired are accounting, marketing, sales, finance, and education.
Learn about the job
The second step after having a clearer picture of the type of work you choose is learning or researching in the same field. Successful training sessions call for many hours of planning and organising. A thorough evaluation is must to check out the plans and procedure that worked or the ones that failed.
Getting prepared and qualified
For becoming a corporate trainer, one must have a relevant bachelor's degree. In some instances employers can look for a master's degree for higher level corporate trainer profile. Educational qualification is not the only way to move into the profile of a corporate trainer, there are other ways too to enter this field. One should have proper focus on the area of education to attain expertise in the desired field. For example, if you want to be a corporate trainer in finance, having qualifications that prove your expertise is a good idea.
Focus on communication skills
The key to any successful corporate training is communication. Therefore, it is of importance to improve communication skills before entering the job market. A trainer's job involves communicating with a large group of people at a time and keeping them engaged in the session. So, this demands expertise in communication skills and knowledge on the topics. One must try taking a public speaking course or joining a group that specialises in practising and improving public speaking.
Get an entry level job
Once, the above steps are over then one must start applying for corporate trainer jobs. Paying close attention to the job descriptions will ensure that the job suits your qualifications and skills. Flexible and open-minded approach can surely fetch you a better job.