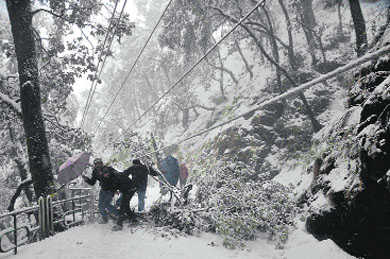 Kuldeep Chauhan
Tribune News Service
Shimla, January 8
The sight of white might be a major draw for tourists, but the spell of heavy snowfall in the state capital and other parts of Himachal Pradesh brought its share of misery for the locals, besides the inconvenience caused to outsiders, as power and communication lines snapped.
In Shimla, a five-day-old premature baby died of multi-organ failure late last night at Kamla Nehru Hospital (KNH) owing to a 24-hour power outage. With electricity lines snapped in the region because of heavy snowfall, the hospital's power backup too collapsed at noon.
(Follow The Tribune on Facebook; and Twitter @thetribunechd)
At that time, two babies were on ventilator support. One of them, who suffered from pulmonary bleeding and septicemia, could not be rescued even though the hospital staff continued to operate the ventilator manually, said doctors.
The hospital arranged for three gas heaters, with help from the office of the Medical Superintendent, to keep 16 premature babies warm. "It was a nightmare. Without power, we were unable to operate radiators, infusion pumps, phototherapy machines and ventilators," recalled a doctor.
With no waiting room, leave alone heating arrangements, attendants of several patients had to rough it out in the cold under the stairs.
The plight of patients at the Indira Gandhi Medical College (IGMC) was no better. It had no diesel to run its generators.
The fuel came in an MC vehicle only after the road in front of the college was cleared of snow and the traffic restored. "We have a generator-run power backup for the ICU. However, heating in wards is a problem," said paediatrician Rakesh Sharma.
"We have three generators. But the priority was to ensure adequate lighting in the hospital complex. There was not enough voltage to operate X-ray, MRI and other machines. Things turned normal after power supply was restored this evening," said Medical Superintendent Dr Ramesh Chand.
---
Life hit in capital, elsewhere
Shimla: Normal life remained disrupted in Shimla and several other places in Himachal, even as tourists and local people faced hardship on Sunday after the heaviest snowfall of the season. In spite of claims by the authorities as regards restoration of roads, water and power supply, tourists faced traffic jams and blockades. A large number of tourists coming to Shimla returned from Shoghi, 15 km from here. Power supply was partially restored in some areas of Shimla on Saturday night, but many localities remained powerless. Water supply was badly affected as there was little pumping due to the power breakdown.
75 Mandi villages cut off
Mandi/Kullu: Life remained paralysed in rural areas of Mandi where electricity supply was snapped and most roads remained blocked on Sunday. Major parts of Gohar, Mandi, Pangna, Karsog, Thunag Barot and Dharampur have been affected. Superintending Engineer of the PWD, Mandi circle, Kartar Chand, said 75 roads, leading to villages, had been damaged or got blocked due to snowfall. Water supply to most areas in Kullu town has been disrupted since Saturday. Residents of Akhara said due to the non-availability of any alternative source of water like hand pumps or natural springs in the town, they had to go without water.
Top News
Resignation sent to Governor Banwari Lal Purohit for final a...
The attack comes days ahead of the celebration of the 75th I...
Abdul Rauf Azhar, born in 1974 in Pakistan, was sanctioned b...
Four people, including two women, arrested