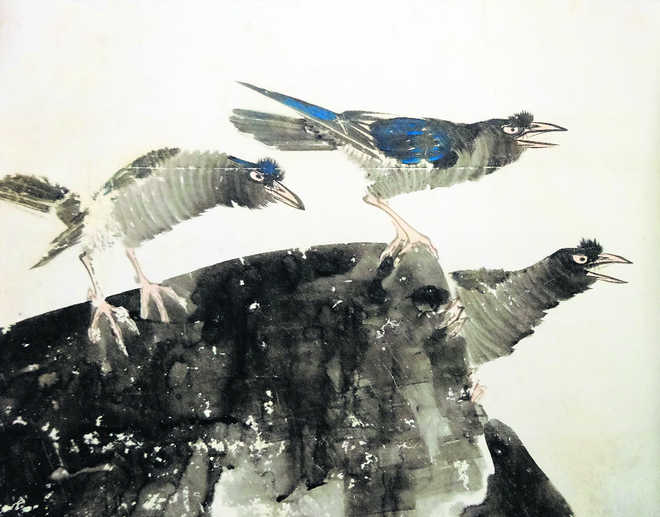 BN Goswamy
He (Rosetsu) was a subject of the Yodo fiefdom, and after becoming a follower of (the master painter) Okyo commuted every morning from Yodo to Okyo's house. One time when it was very cold, he saw a fish caught in the ice in a small stream along the route, and since its body was trapped in ice, it could not jump out, a very pitiful sight. Rosetsu felt sympathy and wanted to help, but unable to figure out how best to do it beneath the ice, he continued on his way up to Okyo's house; when it reached evening, he saw the fish again on his return trip. The next morning the ice was steadily melting, and the fish appeared to have gained its freedom and was swimming happily about. The next day when Rosetsu told Okyo about this episode, Okyo replied: "What a truly interesting story. This is how it is with our painting, as there are years when you follow and learn from the teacher, and during these years you experience hardship: but just as the ice gradually melts, you discover a point where you have gained freedom in painting, and each should try in this way." Rosetsu understood what Okyo meant. — Anzei Un'en, writing in 1844
Like almost everyone else, at least in our land, I had never heard the name Nagasawa Rosetsu till I got a newsletter from the Museum Rietberg in Zurich announcing that the work of that painter — belonging to the Japanese "Lineage of Eccentrics" — will be shown in the museum: 'for the first time outside Japan'. This was intriguing enough. A few weeks later, when I landed in Zurich — for attending a symposium, not for seeing Rosetsu's work, I might add — and visited, even before entering the city, my dear friend, Eberhard Fischer, former Director of that museum, he said to me: 'Do not omit to see that show: there is nothing like it that you are likely to see elsewhere!'. That added enormously to my curiosity, of course, and the very next day, I was at the museum, finding my way to "Rosetsu: Ferocious Brush": that is how the show was named. It was on view not in the main building, but in its extension, the splendid glass pavilion called 'Emerald', which is nearly all built underground.
I knew the place, of course, but I was not prepared to see what I saw. Wide-eyed I looked around: the spacious floor, studded with small, very simply constructed Japanese-type pavilions, wall after wall, panel after panel, filled with Rosetsu (1754-1799) works: ranging from enormous folding screens and sliding dividers, some with compositions stretching over several panels, to images so small — one of them just a square inch in size — that one was hardly able to discern figures in it with unassisted eyes.
In hushed silence, and carefully measured steps, visitors moved about in the gallery, moving from one image to another, or lingering with immeasurable patience, taking everything in. There was almost too much there to see. A large number of objects — folding screens and sliding panels and isolated frames — had come from the Main Hall of the Zen temple, Muryoji, which was undergoing renovation, making it possible for these great objects to travel. One of them, perfectly intact incidentally, featured 'Japan's most famous tiger' from the monumental painting of a tiger and a dragon — 'both symbols for the original life force of mankind and nature' — which, according to legend, Rosetsu had painted in the course of one single night, nearly 250 years ago. Just for the record: the figure of the tiger, ink on paper, occupied six sliding panels, two of them of 180 x 87cm each and the other four 183.5 x 115.5 cm each; facing this extraordinary beast was a dragon, also occupying six panels of the same size. There they were, glaring at each other across blank space, eliciting awe: moving.
But there were 51 other works in the show: 'portraits of Buddhist figures executed with a broad brush…empathetic and exacting depictions of monkeys, birds, and endearing puppies; and, finally, dynamic images in ink, completed without employing a brush, in which the medium is put directly on the paper using fingers', as Albert Lutz describes them. There were realistic, acutely observed, images on the one hand and nearly complete abstractions on the other. In the show, one moved with disbelieving eyes from one work to another, amazed at the elemental force that Rosetsu, who lived only 45 short years, must have been. You came upon a tiger and you felt like slinking back in fear; a monkey with the most curious but gentle look in his eyes, and you wanted to touch his soft fur; a crow sitting on a bare branch, cawing, and you could nearly hear the sound.
Two curators, both working on Rosetsu independently, one from Zurich and the other from Columbia — Khanh Trinh and Matthew McKelway, respectively — came together to bring this show to life. Both of them have remained intensely engaged with this extraordinary painter's work. And each of them is moved. "Becoming Rosetsu", is the title of Khanh's introductory essay, and this is how she begins: "Is it a tiger? Or is it a house cat posing as a tiger? The creature's arresting form, magnified and stretching across six fusuma (sliding panels), gives the impression that it is about to spring from the picture plane." Matthew McKelway titles his essay "Rosetsu after Nanki" and in it he talks about several works. One of them, Mynah Birds on Rocks, he speaks of in this fashion. "Three of these birds, eyes fixed ahead, perch on a wave-battered rock as they caw to another three that prepare to land among them. Rosetsu imbues these avians, which he paints in jet-black ink with sheen of azurite over their wings, with something approaching personality …."
There was much to see in the exhibition; and, evidently, much to read.
Top News
Rana Gurmit Singh Sodhi, Manoranjan Kalia and Amanjot Kaur R...
CM Bhupesh Baghel had earlier accusing the probe agency of c...
Secretary of State Antony Blinken emphasises that Biden Admi...
Gurpatwant Pannu, head of the banned terror outfit Sikhs For...
Satinderjeet Singh, alias Goldy Brar, is a member of Lawrenc...