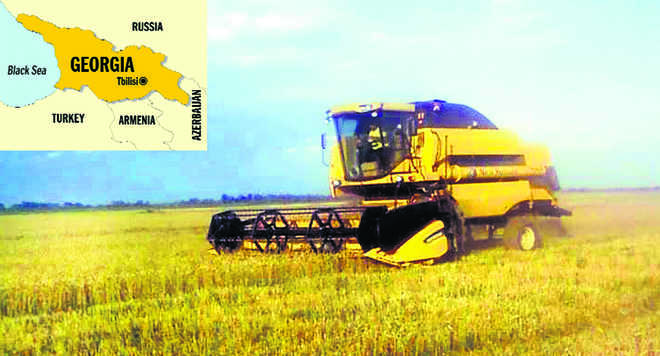 Manmeet Singh Gill in Amritsar
The summer of 2012 witnessed a flurry of seminars across Punjab by travel agencies motivating farmers to buy land in Georgia, a Eurasian country in the Caucasus located at the east coast of the Black Sea, about 3000 km away. By autumn, hundreds of adventurous farmers left for that remote land. Many of them carried a 'promise' given by 'agents': that Georgia would soon be a part of Europe, and that it would be easier for them to move to Canada and the US, the dream destinations for Punjabi youth.
Buying land was the easiest part; you could purchase 87 acres around Tbilisi, Georgia's capital, for Rs 25 lakh. In Punjab with soaring land prices, even in the remotest of areas, an acre came for nothing less than Rs 20 lakh. Most Punjabi farmers purchased land for $1,200-1,300 per hectare. Theirs wasn't just bravado: in the 60s and 70s, too, Punjabi farmers had left for the Kutch area in Gujarat, and the Terai region of Uttar Pradesh (present-day Uttarakhand), and in the 90s for Ganganagar district of Rajasthan.
The difficulties in Georgia were numerous. The language was alien, the land had low productivity, there were no tube-wells and the canal system on which they depended back home, and the farm machinery were almost unavailable. After the first wheat harvesting in May 2013, most — around 1,800 of them — returned, tired, overworked.
Kulwinder Singh Jhaj from Jagraun stayed on, like 200 others, determined to turn the challenge into an opportunity. "Those who had returned had purchased either too small a plot and dreamt they would move to other countries, or, those who could not afford bigger plots and costly farm equipment," says Jhaj. He opened a tractor agency in the small eastern town of Tsnori. To survive, the farmers had to turn entrepreneurs, he said. "There were not many tractors there, and those available were automatic, which we avoided. So, we started importing tractors from Punjab. We needed time-tested and easily reparable machines," he said.
Jhaj later closed down the business after most farmers bought tractors. He opened a taxi service. "But then Iranians too joined the taxi business, so we had to switch again. "We are now importing combine harvesters from Punjab; there is a huge demand for these machines," he said. "We have to keep our ears to the ground and shift to new businesses."
Tsnori, a town in Kakheti region, is known for its best vineries in Georgia. Over 4,000 hectares are tilled by Punjabi farmers. "The land on which we grow wheat now had best vineyards. The soil is much like in Punjab but a little clayey. The best part is we do not have to use any fertilizers. Pest attacks and weeds too are little; one spray of pesticide is enough," said Gurpreet Singh Brar, president of Gurdwara Nanak Darbar in Tsnori. He belongs to Dehradun and is originally from Faridkot district.
Brar owns 50 hectares and tills that much more on lease. Like Jhaj, Brar too has no plans to return. "In UP, Punjabi farmers took years to settle because they had to level a wild forest area. But there we got a levelled land," he said.
Brar said that Georgia is largely a crime-free country where locals are very helpful. "We practically have no issues. Our representative body, the Indian Investors Associations, holds regular meetings with government officials. They have assured us repeatedly that our investments are safe. Besides, many agricultural reforms are on the way." He says all land records in Georgia are online and there are no ownership disputes. "In Punjab land ownership disputes are a major cause of worry," he said.
In Georgia, the farmers initially faced trouble in selling their produce as the marketing system had almost collapsed after that country seceded from Russia. "We recently diversified into farm-allied business because we felt that farmers had to sell their produce at much cheaper rates in the absence of storage facilities," says Deepinder Singh, a Jalandhar resident. His uncle, Hardeep Singh, is chief executive of Geo Steel in Georgia and has ventured into building and managing silos, and purchased an old floor mill. The business family's steel plant is operational since 2007.
About the wheat yield, Karm Singh of Bassian village (Ludhiana) says it is around 1.5 tonne (15 quintals) to 1.8 tonne (18 quintals) per hectare (2.5 acres). "In Punjab an acre gives that much yield, but to compensate for the loss, we have more land there. Right now we are not foreign currency earners for India — as most NRIs are — but we are managing ourselves well and are expanding," he said.
In the last few years, many Punjabi farmers have also ventured out in African. A farmer-entrepreneur, Puneet Singh Thind from Ambala who managed a 5,000-acre farm in Ethiopia and returned, says farming in other countries demands a sincere approach. "Farmers should go out only if they have enough funding from corporate sector or their assignment is a part of World Bank programmes," he said. Thind says many corporate houses have set up farms in African countries. "Most farmers returned as the local community saw them as land grabbers," he said. Settling in a foreign country for agriculture is difficult because this sector is in a crisis across the world, he said.
Punjab Agricultural University vice chancellor Dr Baldev Singh Dhillon says the government was trying to open a college of agriculture and engineering in eastern and southern Africa. Many students from these areas come to PAU. Even two Punjabi farmers from Ethiopia had come to know about cultivation of maize crop. The technology used in African countries is from America which is costly. But ours is rather affordable. We are in touch with the governments in these countries," Dhillon said.
Top Stories