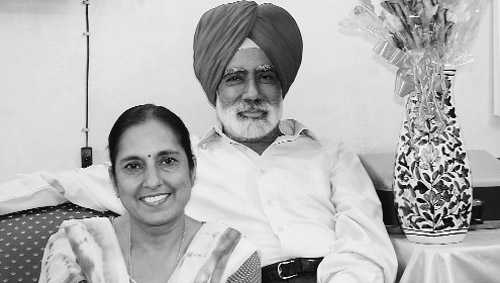 For adventure lovers, life is a never-ending thrill -- a sunset would only mean sunrise somewhere else. Exhaustion and extreme weathers are the ingredients that whet their insatiable appetite to see more and savour more all from this life. Dr Parmjit Singh Sehra (69) is the one who has seen the far end of the world, when he was hardly 23 years old. He is the first Indian to 'winter-over' the South Pole in Antarctica.
He recalls a news item, 'USSR attempt to get scientific data about the South Polar Ice-Cap', published in The Tribune 45 years ago. "I see myself circumnavigating, exploring the South Pole in Antarctica as the first Indian to do so…. as the lone participant from India in the 17th Soviet Antarctic Expedition during the period from 1971 to 1973," says Dr Sehra.
The boy from Bhana village in Hoshiarpur was a researcher in Meteorology and Atmospheric Science in Gujarat University. The year was 1971, the Indo-Pak war had intensified and Sehra was coming home to seek blessings and approval from his parents. He earned both. And he was ready for participation in the 17th Soviet Antarctic Expedition, 1971-1973.
Dr Sehra shares some of his most momentous memories:
'Wintering-over'
I worked for more than a year at the station 'Molodezhnaya' which was the continental headquarters for the Soviet Antarctic Expeditions. During the harsh winter, an emergency was declared at our station following acute shortage of food and other essential provisions. Both the quality and quantity of food were very poor. Our tinned food also got exhausted during the extremely cold and stormy polar night. We had to live on the Antarctic seals, penguins and fish. I remember when we had to eat the meat of our favorite huskies in order to survive. When 'Vodka' also finished, many of us started drinking pure spirit mixed with tea-water, called 'Antarctic whisky'!
Two of our expedition members became mentally unstable due to long isolation and had to be shut indoors. During the winter, we encountered several violent blizzards, with speeds exceeding 200 km per hour. Some of our houses were blown off, some of our comrades died for the cause of science.
Six-month day
Ever wondered about the longest day? At the Geographic South Pole, there's Amundsen-Scott South Pole Station where the sun sets for the winter on March 22, not to rise again until September 21. A full year consists of only one day and one night, each of six months' duration.
I must say that six months of continuous darkness followed by six months of daylight at the South Pole were the extremely boring phenomena of nature I experienced there. When I returned home, I found that a 12-hour day followed by a 12-hour night were, indeed, a great blessing!
Harshest environment
I learnt that the warmest human relations can be made in the coldest and the harshest environment. The Antarctica has recorded the world's strongest winds of more than 250 km per hour and the lowest temperature of minus 89.3 degrees Celsius at the Soviet Antarctic Station 'Vostok' located at the earth's geomagnetic South Pole. Here, I worked to collect meteorological data.
At 'Vostok', the air is perpetually drier than in the world's worst deserts. During the polar night, temperatures drop so low that they would normally freeze carbon dioxide out of the atmosphere which condenses at minus 78.5 deg C. The altitude starves lungs of oxygen, and the normal rate of heartbeats nearly doubles. Here 15 of us wintered over, isolated from the outside world for more than one year, half of this time in darkness.
Science & spirituality
I was reborn the moment I fell into a deep crevasse. I was hardly an inch away from my death when I was pulled out by a rescue team. In another accident, I fell down from a 200-metre ridge in a violent snowstorm and lost a few teeth and suffered a fracture in my legs.
A few months later, I undertook an independent trekking to a distant iceberg which was about 150 km far and named it as 'Indian Elephant Iceberg'.
On my return journey, misfortune followed me. Already weak from over-exertion and lack of food, I encountered violent storms and blizzards and lost my way.
On Antarctica
In Greek, Antarctica means 'Anti-Arctic', i.e., the opposite of the Arctic. Including its permanently attached ice shelves, the Antarctica covers about 5.5 million square miles surrounding the South Pole, and has 18,500 miles of coastline. It is as big as the United States and Mexico combined. This great mass has made Antarctica the highest of all continents, its average elevation is about 7500 feet.
The best-known birds in Antarctica are the flightless penguins which walk erect and waddle along like a cartoonist's version of a man returning from a formal dinner!
Top News
The move comes ahead of Prime Minister Narendra Modi's visit...
India offers to build transport networks in Central Asia; ta...
Ashish Mishra, son of Union Minister of State for Home Ajay ...
Police say that based on a complaint, an FIR has been lodged...
At 8.56pm on Monday, the troops hear the sound of a drone fr...