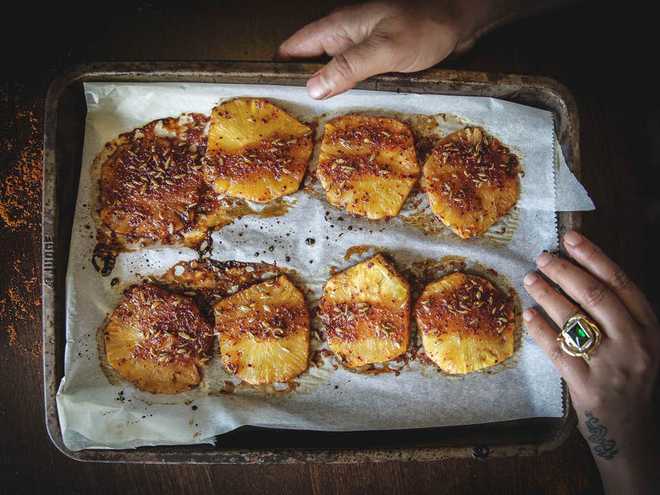 Romy Gill
When I lived in India, we did not have an oven while growing up, so either we either used to eat pineapples with a little sprinkle of black salt and lemon on it, or mum would cut them in circles and marinate those with spices.
I like to cook it this way by marinating it in tamarind. It's so delicious and I love the fruit after it has been roasted.
Roasted pineapple, with brown sugar marinated in tamarind
Serves 4
1 pineapple, skinned and cut into circles
50g brown sugar
2tsp tamarind paste
1tsp salt
1tsp chilli flakes
1tsp crushed fennel seeds
1tsp crushed cumin seeds
Method
Preheat the oven to 180C/fan 160C/gas mark 4.
Put the brown sugar in a medium frying pan over a low heat. Do not stir, as this may cause the caramel to crystallise.
As it continues to melt, keep shaking and swirling the pan until a medium coloured caramel is formed.
Add the tamarind paste, whisk well. Boil for 2 minutes, then add the chilli flakes, salt, fennel and crushed cumin seeds. Marinate the pineapple with the spicy caramel. Roast for 10-15 minutes. Remove from the oven and transfer the pineapple circles from the roasting dish to a plate, covering it with foil to keep warm. Eat warm on its own or serve with ice-cream.
— The Independent