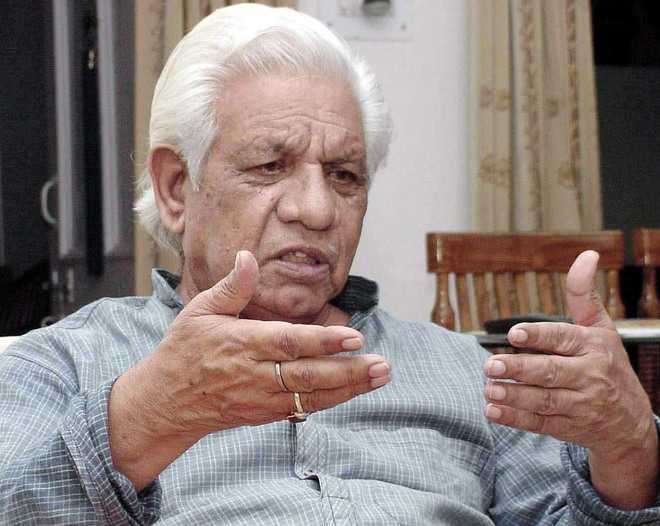 When we last dropped in on Urdu poet Kashmiri Lal Zakir, 93 was just a number and he was as prolific as ever. At the time having been just conferred the Fakhr-e-Haryana title, which he accepted with, "Honours are recognition of one's hard work. One feels appreciated and inspired to continue with the work."
Continue he did, at the time writing on the Uttrakhand natural disaster and also his autobiography Subah, Dopahar, Sham.
With the news of his demise breaking on Wednesday, the only thing amiss was that century milestone. Well into his mid nineties, even though the man couldn't complete a century when it came to age, his published works easily reach over 130 in number. Those in the literary circles of the city, share a few words on the man.
— Manpriya Singh
---
A centurion, nevertheless
"Though he couldn't complete a century in age, he was more than a centurion as far as literary achievements are concerned. This extends not just to quantity of his published works which are well over hundred but also his quality which was cent per cent. He was one of the those rare writers who reach nineties and have a re-rhythm to life. His writings told us to live through sadness with passion and fight the circumstances."— Dr. Atamjit, playwright and director
Great loss for Urdu language
"It's a great loss for Urdu literature. As it is, there are very few people left who know the script well enough to be able to contribute to it. He had also played some part in almost all of academies in Chandigarh, I think being the second chairperson of Chandigarh Sahitya Akademi. Creative legends are often believed to be eccentric, but he was a very nice, polite and humble human being. " — Gulzar Singh Sandhu, president, Chandigarh Sahitya Akademi
Prolific writer with a purpose
"His demise is like a big literary titan going down. He was one of the forerunners of the language, not just supporting it but also promoting it. He published more than 120 books which is an enviable collection. In fact, my own book in Urdu titled Rehguzar could happen because of writers like him. My diction and any knowledge of the language, apart from my father, I credit to him." — Rajbir Deswal, Joint Director, Haryana Police Academy
The Pioneer
"He was a part of the formative years of Chandigarh when the city was still finding its cultural roots and space." —
Neelkamal Puri, author