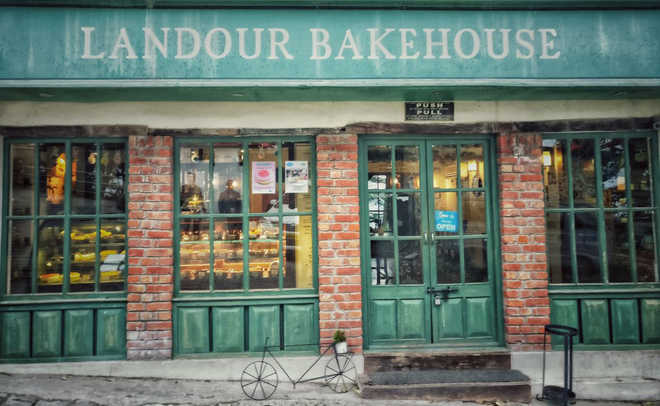 Akash Mehrotra
A steep four to five km drive from Mussoorie brought us to Landour, a British raj relic, draped by an old-fashioned aura, with numerous colonial-era bungalows with slanting roofs, brick arches, and stone walls, and silence that was interrupted only by the gusts of invigorating cold breezes. Landour is steeped in history and some unforgettable colonial charm. And the quaint Christmassy town of Landour has a lot more to offer than just long walks.
In the early 19th century, the Gorkha conquest of Kumaon-Garhwal led to the British shifting their military sanatorium from the plains of Dehradun to the silent hills of Landour. Many of its areas like Kenilworth, Ivanhoe, Waverly and Woodstock echo the unmissable English connection. Many cottages of Landour are built in Tudor style, reminiscent of that old connection. The first home in Landour was built in 1825 by Captain Young, the 'discoverer' of Mussoorie and commandant of the first Gorkha Battalion raised by the British after the Gorkha War. He named his house 'Mulingar' after an old Irish town. Soon after him, a convalescent depot of soldier's came up, and with it, the nurses' camp, popularly known as sister's bazaar these days. The house was later transformed to a hotel and then leased to the British to house an overflow of soldiers from the sanatorium.
For years, Landour remained an exclusive British preserve and a haunt of the Indian elites and the ruling classes. Many maharajas from Kuchesar to Rajpipla, Alwar, Jind, Kapurthala and Baroda had their summer houses in the exteriors of the iconic Mall road, some extending up to the upper stretches, some extending up to Landour. Even today, it retains that exclusionary trait.
A loop trail off the Mall road on the Camel Back Road, lies a British cemetery, where lies British adventurer Frederick 'Pahari' Wilson, who made his fortune, and even minted gold coins by illegally harvesting timber, floating them down on the Ganges, and selling it to the British to build railway coaches. His story is said to have inspired Rudyard Kipling's The Man Who Would Be King.
Eating your way in this small hill town, makes you believe what a big heart it has. Grab a bite at Landour's iconic resident Ruskin Bond's next-door neighbour, Doma's Inn. With its Tibetan food, kitschy Bollywood theme, scenic views, and friendly gestures, this place is a must stop. A 10-minute steep walk from there brings one to the buzzing Char-dukan area, where one should stop by for tea and Maggi break. A little more walking and the bridled roads here take you to the Landour Bakehouse, for some lost recipes of Landour, doles of cake, gooey chocolate goodness and a hot sipping coffee. A little uphill is the Emily's kitchen of the Rokeby Manor for some delicious continental choices.
Mussoorie was also home to Sir George Everest, surveyor-general of India between 1830 and 1843. Sir Everest carried out the trignometrical survey of India, covering a 2,400 km stretch from South India to the Himalayas, including the measurement of some of the highest peaks of the world. He got his rest house done, at a secluded edge of a cliff, some six km beyond the Hathipaon area. The house now lies in ruins, but trek up to the house can amaze you with the stupendous views of the Doon valley.
And then, there's Landour's little treat — peanut butter. When American missionaries came here in the 1830s, they brought with them equipment to make peanut butter on a commercial scale, and thus, Landour got set off on a yummy-treaty ride. Many of these settlers sold off their equipment after independence, and one of these peanut butter-making machine ended up in the hands of Anil Prakash's family. Prakash's store is known for homemade peanut butter, jams, cheese and preserves.
On the path to Lal Tibba, a board pinned on a tree says "If we liked noise we wouldn't live here, if you like noise you shouldn't be here". Landour is to live free.
Top News
The H-1B visa is a non-immigrant visa that allows US compani...
Sources say it appears to be an IED blast
It will be extended for Tinsukia, Dibrugarh, Charaideo, Siva...
Remaining 12 in preventive custody to be freed soon, Jatheda...
Vishal alleged when he was walking on the road, Aman came fr...