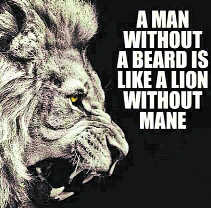 A Swedish friend who visited me recently was curious to know about the five Ks of the Sikhs and their significance. The only 'K' she knew of was the kirpan (she called it the 'knife'). I explained briefly the connotation of karha (metal bangle), kanga (comb) and kachha (underwear) that our Guru ordained for the Khalsa. When it came to kesh (hair), I thought for a brief moment if I should use that word that means "beard growing". Then, I quickly dismissed the idea as I concluded that since she is from Sweden and English is not her mother tongue, she wouldn't surely know that English word which stands for it. In fact, most English and English-speaking people, too, would be unaware of it. Do you know the word that defines the act of letting the beard grow?
Though thousands of men wear a beard with pride, even they would have to think hard to come up with the term that describes their flowing facial hair. Ask them about the various styles of beard, and their faces at once light up.
One goes gaga over the goatee style. It's a small pointed beard on the chin, like that of a goat. And another one goes overboard about the goatee-and-moustache combination beard. Yes, the one that Amitabh Bachchan sports and was referring to when he lamented: "I just lead my life as naturally, as normally as I possibly can. But I can't help it if controversy is hounding me day in and day out. I'm quite amazed sometimes by the way they go about it. I grow a beard and it lands up in the editorial in The Times of India."
When we have whiskers like those of goats, can sheep be far behind? Yes, there's that guy who excitedly chats about his mutton chops: those long sideburns on the cheeks that extend down to the corners of the mouth. And, in this one-upmanship, there are men who style their sideburns into various angular shapes to give that designer look.
However, the pride of place among those proudly flaunting their bristles goes to those preferring the full beard style. A full beard is the classic expression of the male beard. Leaving the goats and sheep far behind, they seem to believe that a man without a beard is like a lion without mane. (But, I doubt whether they, too, would be aware of the word I am hinting at).
I got this impression when I went on a pilgrimage to the gurdwaras of Pakistan in June along with a jatha of around 500 Sikhs. Most males in the group, like a pride of lions, were sizing each other up according to the length and thickness of their facial hairs. "Sardarji, you look better with your beard left flowing and untied," said one to another who had till then appeared with his beard neatly tied up below the chin.
Back to the guess-the-word game. A youngster with a five o'clock shadow (a dark appearance on a man's chin and face caused by the slight growth of beard that has occurred since he shaved in the morning), tried to act prickly by skirting the issue and spouting forth some other meanings of the word beard. Did you know that a beard is also a person who carries out a transaction, typically a bet, for someone else in order to conceal the other's identity, he proclaimed. To beard also means to boldly confront or challenge someone formidable, he added.
Not one to be intimidated so easily and not in the mood to give in just yet, I too played on. Did you know that according to a study published in the Journal of Evolutionary Biology, women view men with stubble as more attractive for short-term flings and that men with full beards were seen as more attractive for long-term relationships, I countered.
Another person pitched in with another study. Beards may be more hygienic and bacteria-resistant than shaven skin, he informs us. Researchers have found that clean-shaven men were more likely to harbour infection-causing bacteria resistant to antibiotics when compared to bearded men. The study, published in the Journal of Hospital Infection, suggests that this may be due to micro-abrasions caused by shaving in the skin which may support bacterial colonisation and proliferation.
I guess, if we go by this finding, we will find many more men giving up the razor for a beard brush and opting for pogonotrophy. Oh! I have given the word! Yes, the word meaning letting the beard grow is pogonotrophy. It is the act of cultivating, or growing and grooming, a moustache, beard, sideburns or other facial hair. It comes from the Greek pogonotrophia, which means pretty much the same thing.
— hkhetal@gmail.com
Top News
Congress' state in-charge says the party is tipped to get th...
Launches attack against nepotism and graft; seeks collective...
Says Congress will oppose attempts to put leaders like Gandh...
Chandrashekhar Harbola was part of a 20-member troop that wa...
One attack occurred at a minority habitation in Chadoora in ...