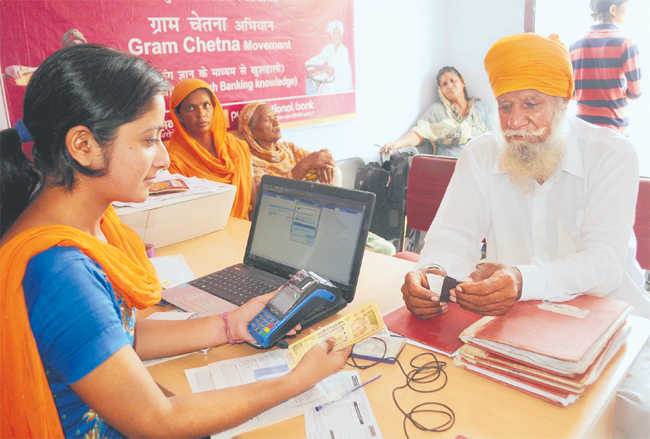 Young Rupinder Kaur is a bank correspondent agent (BCA) hired by Punjab National Bank in Tarn Taran's Vain Poin village, about 15km from the district. A simple graduate trained for just two weeks by a private company that the PNB sourced, Rupinder in the last three years since her appointment is known as a 'bank commando': She deals with 5,000 accounts in a village of 10,000 residents. Her day sees at least 45 transactions. Before she was recruited, the villagers had to go 10km away to Sheikh Chak for a simple withdrawal. She may soon be replaced by a 'brick & mortar' centre that the bank plans in a few months.
(Follow The Tribune on Facebook and Twitter @thetribunechd)
n In Fatehgarh Sahib's Ferozpur village, former sarpanch Kuldeep Singh is upset about absence of any banking facility. Villager Manjit Singh dismisses claims of full area coverage, saying he opened his account 10 years ago with State Bank of Patiala. "I have to travel to the Bassi Pathana branch for my small needs." Ferozpour village has about 1,300 residents, which disqualifies it for a separate bank branch.
n In village Dulchi ke in Ferozepur City, BCA Kirandeep frequently blames slow internet speed for dispensing cash. She says villagers know of various Centrally sponsored schemes, but want quicker services. The town under her watch has 40,000 pensioners.
n A BCA in Hisar (Haryana) Narnaund block says he can't disburse pension to 300 residents of a village because internet speed was a problem and t matching fingerprints through a scanner was a major problem.
Welcome aboard the rural bank bandwagon. The track is rickety, ramshackle at places, but holds the promise of unprecedented riches. In the last two years 22.18 crore new bank accounts opened with deposits of Rs 39,152 crore. Yet figures are just numbers, though they do carry a whiff of an economic activity, but are devoid of essential spin-offs such as making sense of them at the village level, a larger meaning of prosperity and a willingness to be a small cog in a gigantic wheel of economic governance. Banks have had a simple meaning: money. So, does India-rural have money or banks? Figures say it has, facts say it doesn't. It's because from Chandigarh and Delhi, you get figures only as rural hinterland remains too far and is in dispute with what is being churned out in the Capitals. It's very much like putting two plus two together, yet not getting the sum-total.
The year 2011 was a watershed year: the government decided that financial inclusion was not merely a financial coinage; it offers much deeper meaning for growth figures. So banks arrived in villages and BCAs were quickly dispatched to remote unbanked villages. The first target was to protect people against moneylenders, bloated bureaucracy and bribes. It also meant transferring welfare payouts directly to the nation's poor.
The government termed it Swabhimaan, mandating banks to open an outlet in every village with a population of over 2,000. This led to banks opening outlets in nearly 100 per cent of the target villages. In the second phase, Swabhiman covered villages with population of at least 1,600. This resulted in unchecked competition among agents resulting in high attrition.
Then came PM Modi's Jan Dhan Yojna in 2014, which experts say is an improvisation over previous financial inclusion schemes. As per a report by the Direct Bank Transfer Mission in the Cabinet Secretariat: "With over 21.11 crore Jan-Dhan bank accounts, 100 crore mobile connections and 98 crore Aadhaar numbers, there is a compelling belief that JAM is the way ahead in delivering financial inclusion. It holds the key to one of the biggest reforms in India."
For rural banking, a sub-service area approach was introduced. According to the mechanism, all the 6 lakh villages across the country were mapped. At least one fixed point banking outlet catering to 1,000 to 1,500 households, called as Sub Service Area (SSA), was set up. Banks can serve these SSAs either through a branch, or appoint BCAs -- local educated youth who can earn at least Rs. 5,000 per month.
Another ambitious target is to have cashless transfers. The Jan Dhan-Aadhar-Mobile trinity is said to be the key facilitator. In his recent Mann Ki Baat address, Prime Minister Modi said that along with the Jan Dhan account, people have been given a RuPay card. This card could work both as credit and a debit card. With the help of a 'Point of Sale' instrument with an Aadhar number or RuPay card, people can pay up without cash.
Is PM being overambitious? The Direct Bank Transfer Mission in the Cabinet Secretariat makes a point: "Schemes introduced in the past have often struggled to achieve their goals due to ill-targeting, leakages and ineffective service delivery. These delays and other hurdles leave a huge leakage gap of 2% of GDP every year."
Bankers, too, have told the government that rural internet connectivity is the single biggest challenge.
(Inputs from Vijay C Roy in Chandigarh & Sanjeev Sharma in New Delhi)
Top News
2 others eject safely I Debris strewn across miles I Sukhoi,...
Visit comes ahead of NSA chief's US tour
Union Ministers call it part of efforts to de-colonise, indi...