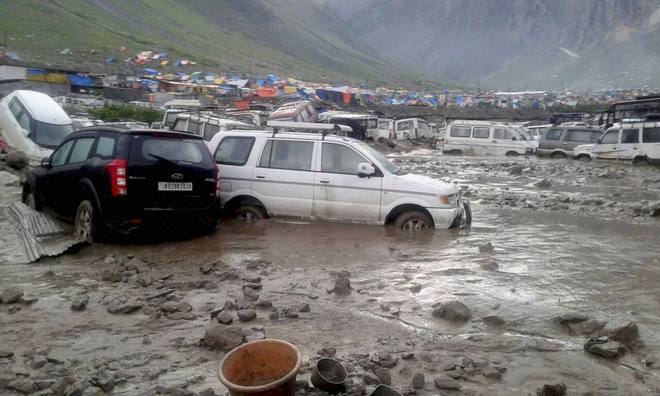 Ehsan Fazili
Tribune News Service
Srinagar, July 25
At least three persons, including two children, were killed and 10 others injured in a flash flood triggered by heavy rain and a cloudburst, at the Baltal base camp of the Amarnath yatra Friday late night.
The dead were identified as Deepak Singh of Delhi; Pooja (13) and Vikram (12) from Rajasthan. Seven persons, including one each from Rajasthan and Madhya Pradesh, were washed away in the flood.
The deceased belonged to two families which had set up roadside kiosks. Nearly 50 tents and shops and the parking area outside the main gate of the Baltal base camp were badly damaged. A large number of vehicles were under the slush at the camp.
A search and rescue operation was launched by J-K police, NDRF, SDRF, Army and Central Armed Police Forces' personnel and the Yatra Camp Director along with senior officials.
Governor NN Vohra, chairman of the Shri Amarnath Shrine Board (SASB), today reviewed the situation at Baltal, 110 km from Srinagar. He announced an ex-gratia relief of Rs 1 lakh for next of the kin of the three killed. Nine of the 10 injured were discharged from the base hospital today. The Governor instructed officials to ensure best possible medical treatment to a critically injured, Abdul Karim Shopian, a ponywalla, who has been admitted to SKIMS, Srinagar.
The Sonamarg-Ghumri stretch of the Srinagar-Leh highway has been closed to vehicular traffic following the damage caused by several landslides. The SASB chairman directed the Border Road Organisation to ensure the earliest possible opening of the road.
Meanwhile, the pilgrimage to Amarnath continued from both the Pahalgam and Baltal routes today. At least 2,940 persons left from Chandanwari Access Control Gate and 1,276 persons from the Domel Access Control Gate. Helicopter services from both Pahalgam and Neelgrath helipads are operating uninterruptedly. Over 2,200 yatris had paid obeisance at the Holy Cave by 12 noon today.