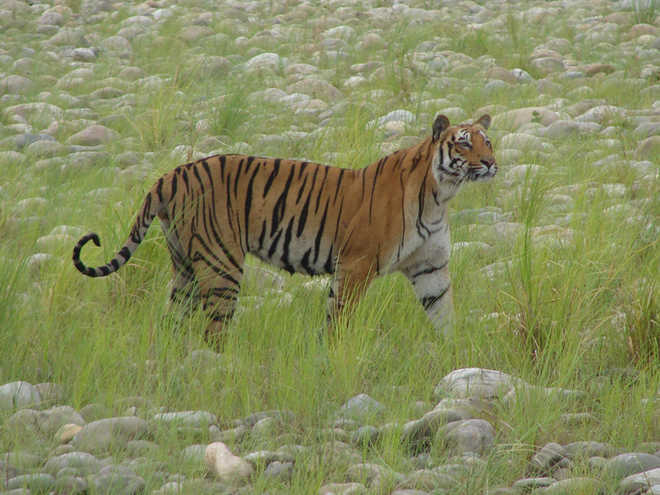 Jotirmay Thapliyal
Tribune News Service
Dehradun, August 23
Efforts are on to relocate tigers from the buffer zone of Corbett Tiger Reserve to the western sector of Rajaji Tiger Reserve to augment tiger population there.
The success of the progamme depends on survival of tigers after they are translocated, therefore authorities concerned at the Rajaji Tiger Reserve and the WWF do not want to take any chances. The survival of tigers relocated from the buffer zone is comparatively better to those in the protective areas.
Dr AK Singh, a senior WWF official and also member of the Tiger Relocation Programme, said, "The tiger population in Jim Corbett is spilling onto buffer zones that form part of various forest divisions in Terai. It is the ideal place for choosing tigers to be relocated."
He said that WWF had already assisted in training its staff at Panna Tiger Reserve of Madhya Pradesh, which witnessed a similar reintroduction programme in the past.
The buffer zone forms the periphery of the protected area and anthropogenic pressures are similar too. Moreover, tigers entering the buffer zone from Corbett Tiger Reserve are most suited for translocation to the western sector of Rajaji given their ability to adapt to new areas.
Efforts to reintroduce tigers in the western sector have been underway for long. The Wildife Institute of India (WII) suggested relocation way back in 2010. In its study—Population Viability of Tiger in their North Western Range Limit, Terai Arc Landscape—it suggested tiger translocation as means to revive tiger population in the western sector of the Rajaji National Park. The study suggested initiation of translocation to prevent imminent local extinction of tiger in the western sector.
The National Tiger Conservation Authority finally gave its nod to go ahead with the relocation plan in June. Since then Rajaji Tiger authorities, wildlife conservationists NGO, WWF and experts from WII have been working on the project, which would be materialised after the monsoon season ends.
The Corbett Tiger Reserve and eastern sector of the Rajaji Tiger Reserve have booming tiger population. But, there are just two tigresses in the western sector of Rajaji Tiger Reserve for more than a decade now.
---
WHY TRANSLOCATION IN BUFFER ZONE
The buffer zone forms the periphery of the protected area and anthropogenic pressures are similar too.
Tigers entering the buffer zone from Corbett Tiger Reserve are most suited for translocation to the western sector of Rajaji given their ability to adapt to new areas
EFFORTS TO INCREASE TIGERS
The WII suggested relocation way back in 2010. In its study it suggested tiger translocation as means to revive tiger population in the western sector of the Rajaji National Park.
The National Tiger Conservation Authority gave its nod to go ahead with the relocation plan in June