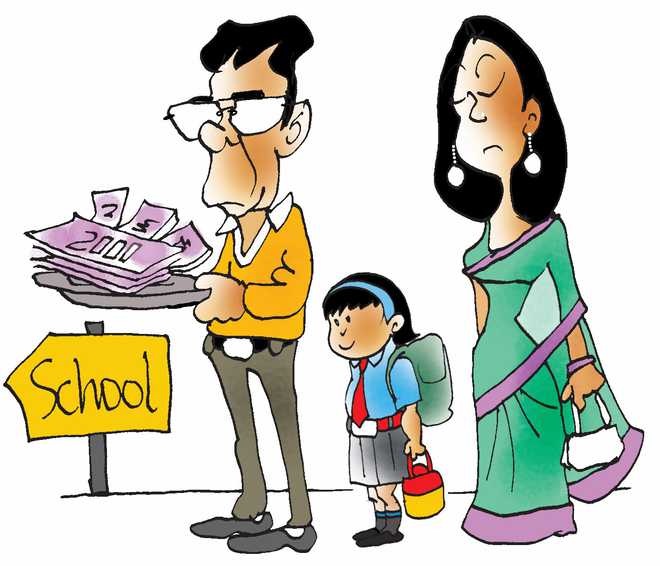 Charu Chhibber
Tribune News Service
Chandigarh, January 4
Sending a tiny tot to an elite city school is costlier than getting a master's degree in management, thanks to the ever-soaring cost of "quality education"!
According to statistics, admission to one of the top private schools in the city reduces the parents' earnings on an average from Rs 2,00,000 to Rs 4,00,000 per annum whereas according to officials of the placement cell of Panjab University, the cost of studying in its business school is less than Rs 25,000 per annum.
Several prominent city schools charge anything between Rs 25,000 and Rs 80,000 as admission fee, in addition to tuition fees averaging Rs 3,000 to Rs 6,000 per month. Besides, Rs 1,000 to Rs 1,200 per month is the average transportation expense.
This is not all. A look at the fee card of most schools reveals addition of various other expenses under different heads, including registration charges, development fund, caution money and miscellaneous expenses.
As if that is not enough, parents are literally wheedled into buying uniform, school bags, books and shoes, either from the school or from select stores.
And then there are fun trips, annual and sports day celebrations, festival celebrations, along with sundry other days that are celebrated with aplomb in most schools – all, at the cost of parents' hard-earned money. Not to forget the countless competitions, school work projects and charity donations, which further add to the parents' financial burden.
"Imagine! This is just about sending a child to nursery or kindergarten," exclaims Shailaja Sharma, an educationist and mother of one.
Parents rue that in the absence of any regulation, the schools have continued to fleece them in the name of quality education.
"Interestingly, while on the one hand, the schools hike their fee at the rate of 10 per cent every year without opposition from any quarter, on the other, Panjab University has to face the ire of not only students but even outside even if it proposes to hike its fee nominally in order to overcome the financial crisis. Such is the power that private schools wield," remarked Vishal Cahudhary, a parent of two.
Summing up the situation, another parent, Sakshi Patial, said, "It is here that the poor and the rich are being separated in laying the foundation for tomorrow. Considering the cost of sending children to nursery, a parent with limited resources cannot even afford to send his child to school."
School heads, on the other hand, say that quality comes at a price. "We have state-of-the-art facilities and highly qualified staff who have to be paid on a par with industry standards. We provide nothing but the best to our students. We cannot provide all this by keeping the fee low," said a school head.
Education Dept to look into the matter
With an aim to rein in the private schools over fee and other charges, the UT Education Department is in the process of scrutinising the Punjab Regulation of Fee of Unaided Educational Institution Bill, passed in December 2016. According to sources, the Director, School Education, has been entrusted with the task of studing its features and recommending it to suit the requirements of the department with the Governor's approval, after which it will be sent to the Ministry of Home Affairs for final approval to make it applicable to Chandigarh.
Top News
Describes India and China as 'friendly sovereign global cent...
In April 2016, the then CIC M Sridhar Acharyulu had directed...
He is serving time in a road rage case dating back to 1988
Clashes broke out between two groups in the Kazipara area of...
Sidhu's team in a tweet confirmed his release on April 1