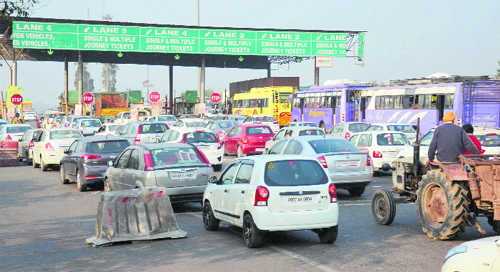 Shivani Bhakoo
Tribune News Service
Ludhiana, February 23
The waiting queue should not be more than 60-70 m at the NHAI toll plaza. The general public cannot be held ransom because of the inefficiency on the part of tolling staff, says the letter written by General Manager (Tech.)-cum-Project Director, National Highways Authority of India (NHAI), to the General Manager, Soma Isolux NH-1 Toll-ways Pvt. Limited.
An RTI information sought by activist Rohit Sabharwal reveals that Satish Chandra, Member Finance/Joint Secretary, NHAI, vide letter written on May 21, 2015, says as per rules, 10 seconds per vehicle and maximum three minutes waiting time means 18 vehicles in a queue in peak-hour flow, should be the criteria at toll plazas.
"Hence, a red line may be drawn 100 m from the toll booths across the pavement and a board may be placed in front of the toll booths about this provision for information to road users," said Chandra.
Sadly, these instructions are rarely being followed by the toll plaza authorities. Public at Ladhowal Toll Plaza in particular is harassed, when they have to wait in long queues and bear traffic jams during peak hours. The situation worsens even more on Saturdays and Sundays.
Balkar Singh, a frequent traveler on the route, said people were not aware of this fact and lesser number of complaints were filed on this issue. "When it takes too long, the public should be given free access at the toll plaza, but there is no such board displayed near the toll plaza barrier. I myself am not much aware about it because in huge rush I will not ask the toll plaza attendants to provide me a complaint register," said Balkar Singh.
Because of regular complaints of traffic congestion and long waiting queues at the toll plaza, the district administration, while taking stern action from November 5, 2015, to January 26, 2016, had provided free access at the toll plaza here (randomly) and over 14, 815 vehicles crossed the toll without paying.
Vipin Sharma, Project Director, NHAI, when contacted, admitted that 10 vehicles (in one lane) should be the waiting time. At the same time, he said during weekends, the situation worsens because of heavy traffic movement.
"And when we get complaints from public, we immediately open it and let public go," he said. When asked to make public aware of the fact that they will have a free access if they were made to wait for long, was there any board installed, Sharma said there were complaint registers and control room numbers, from where complaints could be filed.
"Still we are working for streamlining everything at the toll plaza," Sharma said.
Top News
The incident takes place near Mangu Chak border outpost arou...
Based on the FIR, it is revealed that his daughter had been ...
The protesting wrestlers will not attend the congregation
The gunfight takes place at Tangjeng under the Kumbi police ...
Gandhi, who is in the US for a three-city tour, makes the re...