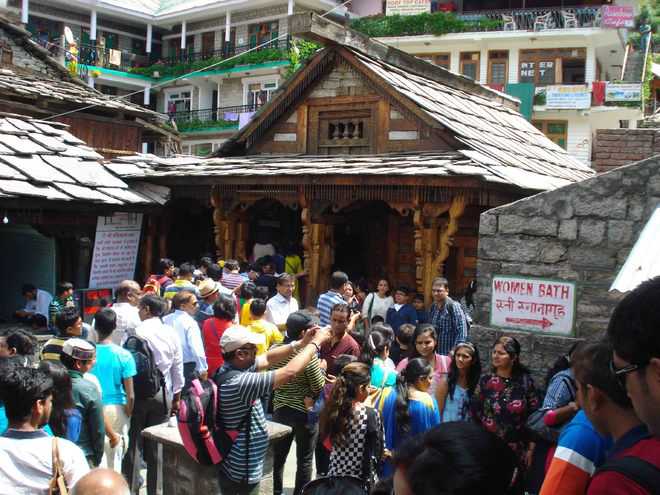 MC Thakur
Manali, June 10
To escape the scorching heat of the plains, thousands of tourists are making a beeline for Manali everyday seeking respite from the summer heat.
The hot water springs and the temples of Vashisht Rishi, Lord Rama and Lord Shiva near Manali here are witnessing a huge rush of visitors from all over the country. The hot water springs here have made the village famous around the world. The village is located about 3 km from Manali, on the banks of the Beas river.
According to legend regarding the hot water springs, when the 'Ashwamedh yagya' was being solemnised by Lord Rama, Vashisht Rishi was conspicuous by his absence from the assembly of saints. As he was the 'kul guru', Lord Rama directed Laxmana and Shringa Rishi to bring Rishi Vashisht to Ayodhya. Shringa Rishi and Laxmana found Rishi Vashisht meditating at the present site. As the areas was under thick snow, Rishi Vashisht asked Laxaman to release an "agni ban" on the ground, following which hot water gushed out from there enabling Shringa Rishi and Laxmana to have a hot bath.
Top News
The Congress, Left parties, TMC and DMK voice strong opposit...
Tears into the Centre for 'weakening the foundations' of the...
India's final tally read 22 gold, 16 silver and 23 bronze an...
Both Lok Sabha and Rajya Sabha adjourned sine die, four days...
Kapurthala Deputy Commissioner writes to his counterparts in...