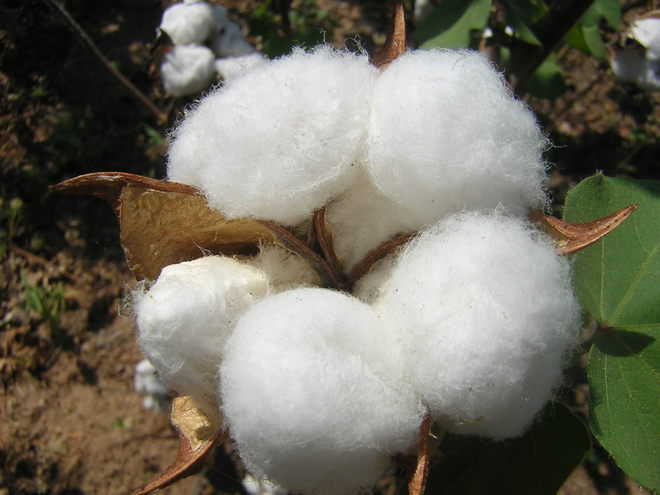 Bengaluru, September 11
While the controversy over Monsanto's Bt cotton has not yet died down, a new transgenic variety is at India's doorsteps — this one developed by the country's own scientists.
It remains to be seen how the regulators, the Genetic Engineering Appraisal Committee (GEAC), will react to this Made in India cotton when its developers seek approval for its cultivation.
The new transgenic cotton is supposed to target whitefly (Bemisia tabaci), whose infestation had been extremely serious in Punjab and Haryana and perhaps elsewhere in the last season and is emerging as a new threat to the crop.
The whitefly damages crops by sucking their sap and transmitting viral diseases. None of the insecticidal proteins used in genetically modified (GM) crop plants to date are effective against the whitefly.
Now, in a paper published in the prestigious 'Nature Biotechnology' journal, a team of scientists from the National Botanical Research Institute (NBRI) in Lucknow, and some other institutions under the Council of Scientific and Industrial Research (CSIR), have offered a ray of hope to fight the whitefly with their new weapon.
To find this weapon, they screened 38 "ferns" (plants that reproduce via spores and have neither seeds nor flowers) to find a protein that is toxic for the whitefly.
The search led them to identify a protein from an edible fern called "Tectaria macrodonta", that kills the whitefly and interferes with its life cycle. They appropriately named the protein "Tma12".
In the next step, they cloned the gene encoding for this protein and, using standard genetic engineering methods, inserted it in the cotton plant to create the transgenic variety expressing the Tma12 protein.
According to their report, the scientists developed 16 transgenic cotton lines with variable Tma12 expression for "contained field trials" or "greenhouse study".
They report that all the transgenic cotton lines they produced were found resistant to whitefly infestation, "with no detectable yield penalty". One line, in fact, "showed excellent control of whitefly and superior agronomic parameters throughout four generations".
Leaves of transgenic plants grown in contained field tests had no visible symptoms of cotton leaf curl disease, unlike the control plants, the scientists report. Experiments further showed that the population of whiteflies feeding on transgenic leaves decreased rapidly while those feeding on non-transgenic leaves kept multiplying.
Transgenic plants grew normally and the yield was on a par with that of pesticide-protected control plants, the report said.
According to the scientists, Tma12 targeted only the whitefly and did not affect the ladybird beetle, an important predator of the whitefly and a beneficial insect.
Besides NBRI, scientists from the Indian Agricultural Research Institute and Panjab University in Chandigarh participated in the study. — IANS
Top News
Jammu and Kashmir Lieutenant Governor Manoj Sinha and politi...
Cops say case cracked within three days with the arrest of a...
Indonesia football association suspends league to investigat...
Samajwadi Party patron is under treatment in Gurugram hospit...
DGP dismisses Mansa CIA Incharge, FIR registered against err...